About a week ago we told you that the Dev-Team were beta testing an untethered iOS 4.2.1 jailbreak for MAC OSX. Now unfortunately because this untethered version of redsn0w was strictly meant for beta testing, there were a lot of bugs that would render this jailbreaking solution useless for most users. These bugs included various applications not working, random springboard crashes, bluetooth not functioning and much more. Due to the pure amount of bugs there were with this untethered beta of redsn0w, we decided not to write a tutorial on how to jailbreak your iDevice with it. Now however, as this untethered version of RedSn0w is nearing completion, the untethered jailbreak is extremely stable and we would deem it safe for use with your iDevice.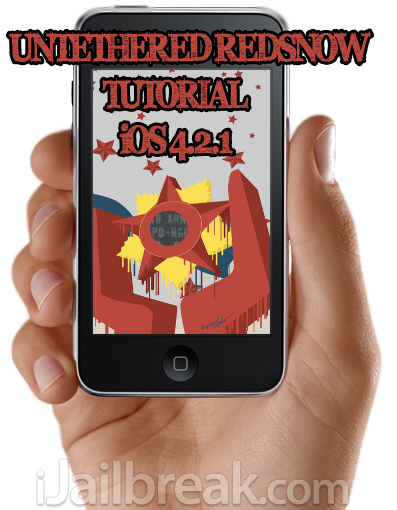 If you are seriously considering following this tutorial to jailbreak your iDevice untethered on the iOS4.2.1 firmware, you will need to ensure you understand the following things:
This Jailbreak is still in beta, not all the bugs have been sorted out
If you jailbreak with this beta version of RedSn0w, BLUETOOTH will still be disabled until the official release
This will only work on the MAC OSX operating System
If you read the above points, and still feel comfortable jailbreaking your iDevice with RedSn0w 0.9.7b4, lets begin…
Step 1) – The first thing you will need to do is download RedSn0w 0.9.7b4.
Download RedSn0w 0.9.7b4 (MAC OSX)
Step 2) – Once you have downloaded RedSn0w 0.9.7b4 to your desktop, you will need to execute it.
Step 3) – Once RedSn0w is up and running, you will simply need to browse for the iOS 4.2.1 firmware that corresponds to your iDevice. Note: On MAC OSX, your iDevice's firmware files are stored in the following directory: ~/Library/iTunes/iPhone Software Updates. If you can't find your iDevice's iOS 4.2.1 firmware file, you can download your corresponding firmware file by clicking here.
Once you succesfully select your firmware file through RedSn0w, a small box will pop up saying "Preparing jailbreak data".
Step 4) – When RedSn0w has finished preparing the jailbreak data, you will be brought to a screen that features multiple checkboxes. You will only have to ensure that two of these checkboxes are enabled. Cydia (which is selected by default) must be enabled, and you must also click the checkbox that says "Jailbreak Monte (untether)".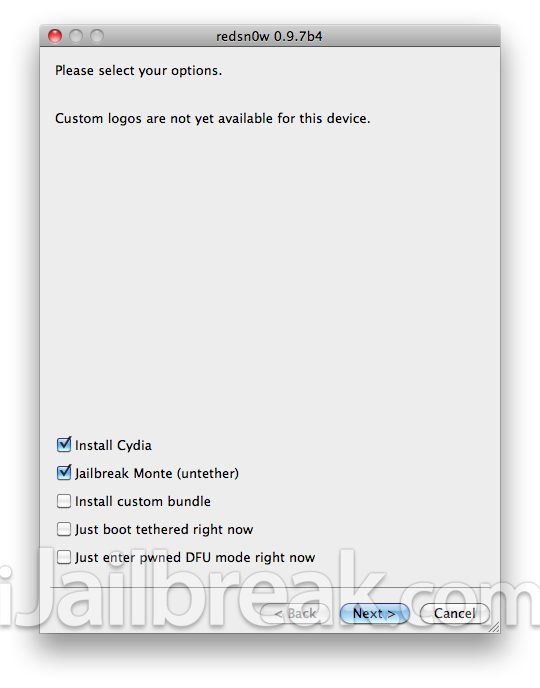 When you click the "Jailbreak Monte (untether)" button, another pop up box will appear asking you to locate the  4.2b3 IPSW file that corresponds to your iDevice you are currently trying to jailbreak. Now I know you are not going to have such a firmware file lying around on your computer, so you are going to need to download this firmware file. Google will be your friend ;)
Once you download the 4.2b3 IPSW, you can select it from RedSn0w, and click the next button to move on.
Step 5) – From this next screen the only thing left for you to do is put your iDevice into DFU mode. You will need to make sure that you turn your iDevice off, and you plug your iDevice into your MAC before clicking the next button.
Once you have done this, click the next button and follow the on-screen instructions.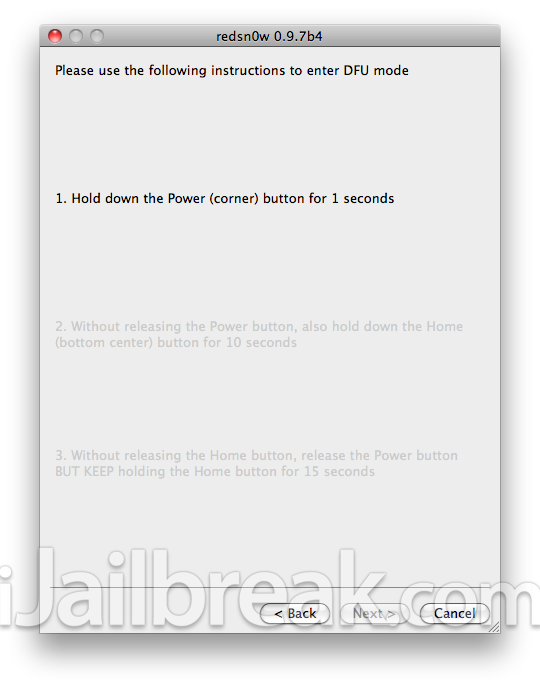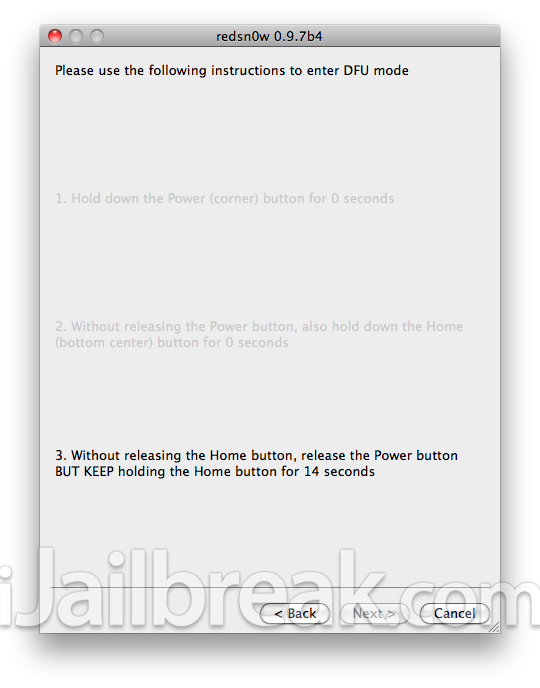 Step 6) – Once your iDevice is into DFU mode, RedSn0w will handle the rest of the jailbreaking process. You just need to sit back and watch RedSn0w perform its jailbreaking magic. Once your iDevice is done being jailbroken, it will reboot and you should see Cydia on your SpringBoard.
If this beta version of RedSn0w worked for you, great! We will let you know if the dev-team releases a fix to re-enable bluetooth, so you do not need to re-jailbreak your iDevice when the dev-team officially release redsn0w, to gain back bluetooth functionality. Until then, please leave any questions/comments in the comments section below.