Creators Of AppTrackr (Cracked iOS Applications) Feeling Apple's Wrath
The creators Apptrackr, the most popular cracked iOS application download site, have recently mentioned in a blog post (through Installous) that Apple has been severely scraping Apptrackr for links and sending huge takedown notices for a lot of content. With this statement made by Apptrackr it finally looks like Apple is addressing the increasingly large problem of cracked iOS applications and how it is effecting developers.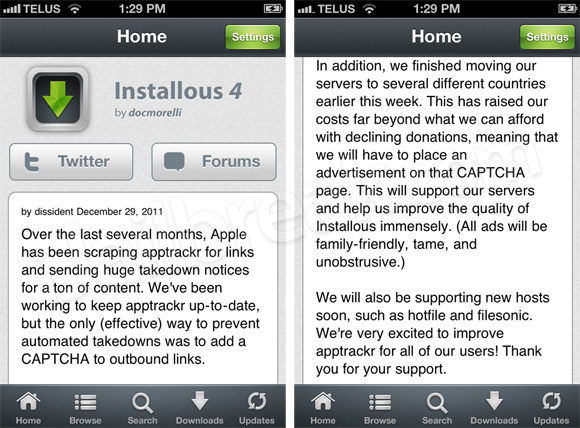 In response to Apple's recent aggressive stance on cracked iOS application Apptrackr is currently undergoing some large changes. They note that they have added CAPATCHA to all outbound links, and they have switched their servers to several countries that do not have copyright laws.
With Apple's recent interest in trying to clamp down on cracked iOS applications it will be interesting to see how long services like Apptrackr and even the popular cracked application installer tool, Installous will be able to operate. Please leave any of your thoughts in the comments section below on this issue…
Make sure you stay subscribed through our social media feeds, so that you never miss a beat, by liking us on Facebook, following us on Twitter and joining our circle on Google+.
Hey, you! Join the iJailbreak Insider for weekly newsletters, Jailbreak alerts, contests and more. (No spam, we promise)