If you believe you have a faulty iPhone USB power adapter, you can make use of Apple's new exchange program and get it replaced free of cost. Apple has announced an iPhone USB power adapter exchange program as it has come to its notice that certain 5W European USB power adapters overheat under use and pose a safety risk to users.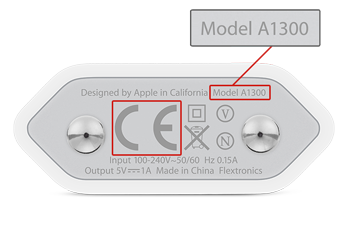 According to Apple, these faulty adapters were shipped along with the iPhone 3GS, iPhone 4 and iPhone 4S models from October 2009 to September 2012. It was also sold as a standalone accessory, so make sure you check your adapter even if you didn't get it with your iPhone. The adapter carries the model number A1300 and the letters 'CE' in solid grey. A newer adapter carrying the model number A1400 and the letters CE outlined in grey will be given to those having faulty adapters.
You can get the replacement adapter by walking in to an Apple Retail Store or a participating Apple Authorized Service Provider. The company also advises you to carry your iPhone as it will require the serial number for the process. If you're living in any of the below listed countries, you could be owning an affected adapter:
Albania
Austria
Belgium
Bulgaria
Croatia
Czech Republic
Denmark
Egypt
Finland

France
Germany
Greece
Hungary
India
Indonesia
Israel
Italy
Latvia

Lithuania
Luxembourg
Macedonia
Moldova
Montenegro
Netherlands
Norway
Poland
Portugal

Romania
Russia
Slovakia
Slovenia
South Africa
Spain
Sweden
Switzerland
Turkey
Vietnam
For more information go here.
Do you own this faulty iPhone USB power adapter? It's best you get a replacement as soon as possible.