iH8Sn0w has released an update for the standalone iReb tool bringing it to version R6. iReb is a Windows program that fixes common iTunes errors like 1600, 1601, 1602, 1603, and 1604 encountered when trying to restore custom firmwares created by using programs like Sn0wBreeze by placing your iOS device into a pwned state. iReb's can also be used to fix Recovery Mode loops.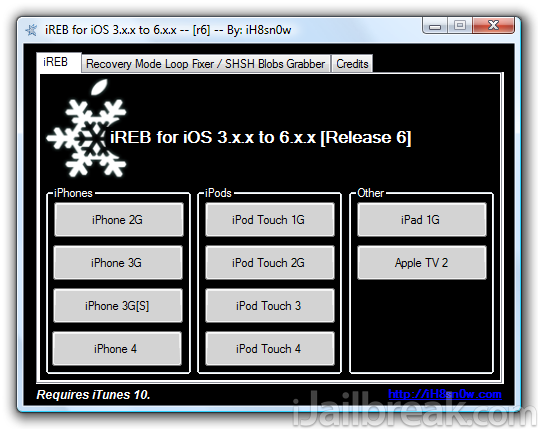 iH8Sn0w tweeted "I updated the standalone iREB (r6) to support iOS 6 restores on the iPhone 3GS & A4 devices. Downloadable at http://ih8sn0w.com  as usual." As iH8Sn0w clearly mentions, it is important to keep in mind that iReb only works with A4 iOS devices and not newer devices like the iPhone 4S or iPad 3.
If you would like to download iReb R6 you can go to the iJailbreak Downloads Section or use one of the direct links shown below.
Download iReb R6 for Windows
Let us know if you have any issues, questions or thoughts related to iReb R6 in the comments section.