Yesterday the iOS 5.1.1 Untethered Jailbreak was released in the form of Absinthe 2.0 and for most people this is the only tool they will need to Jailbreak their A5 or A4 iOS device. If you are experiencing errors with Absinthe 2.0 however, then you may want to try the CLI (Command Line Interface) version of Pod2G's iOS 5.1.1 Untethered Jailbreak was released in the form of cinject 0.5.3.
With cinject you have much more control over the Jailbreaking process, and it can also be useful for debugging errors you might be experiencing while trying to Jailbreak your iPhone, iPod Touch or iPad with Absinthe 2.0. If you have been having troubles Jailbreaking with Absinthe then I highly recommend you give cinject a try. As such, in this how to guide you will learn how to Jailbreak your A5 or A4 iOS device with cinject 0.5.3 on Windows.
Note: For a Mac OS X version of this guide please click here.
A5 iOS devices include: 
The New iPad (iPad 3)
iPad 2
iPhone 4S
A4 iOS devices include:
iPhone 4
iPhone 3GS
iPod Touch 4G
iPod Touch 3G
iPad 1
Apple TV 2G
Windows Cinject 0.5.3 How To Guide
Step 1) – The first thing you will need to do is download cinject 0.5.3 from the iJailbreak Downloads Section or from the direct download link below.
Download CLI (cinject 0.5.3)
Step 2) – Next move cinject-0.5.3.zip to your desktop and extract it by right clicking on the zip file and clicking the extract option.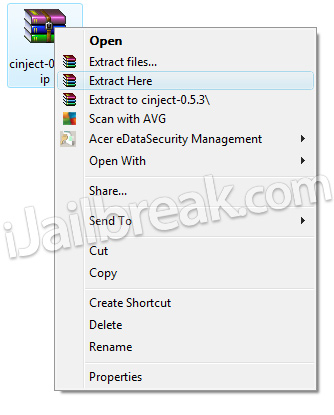 Step 3) - With cinject 0.5.3 now sitting extracted on your desktop you will need launch command prompt. To do this simply hold down the Windows icon key and the "R" key together and a Run window will appear. If this shortcut does not work for you go into the start menu and search for Run.
With the Run window open type in the following and then press the OK button.
cmd.exe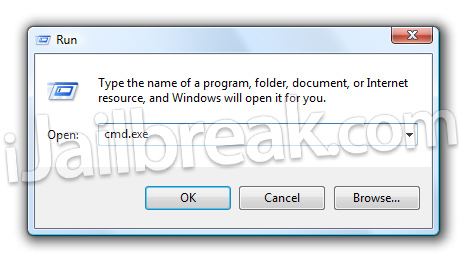 Step 4) – Now that command prompt is up and running you will need to type in the command shown below.
cd Desktop/cinject-0.5.3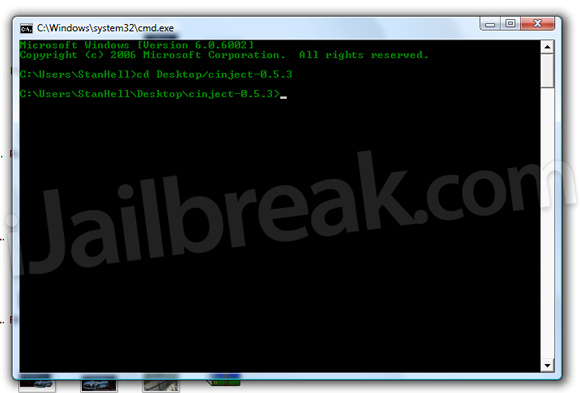 After typing in the command you have entered the directory where cinject resides. You now need to activate cinject by typing the next command:
cinject -Y payloads_rocky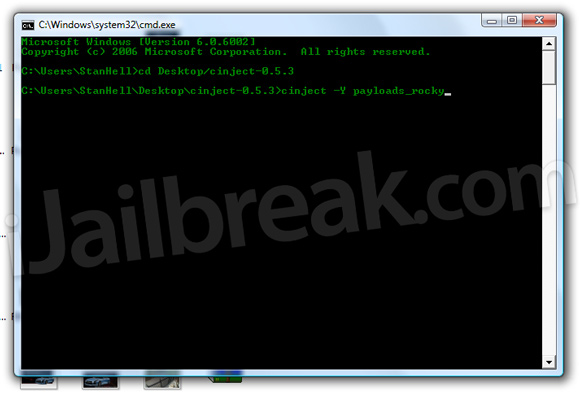 Step 5) – After you enter the command above you will start seeing output on your Terminal window and your iOS device should look like it is being restored. This is normal and you should not touch your iOS device or computer until the Jailbreaking process is complete.
Once your iOS device reboots into a usable state you will simply need to slide-to-unlock and then tap the new Cydia icon that should be on your SpringBoard (homescreen). Upon doing this Cydia will organize its filesystem and you can start enjoying the benefits of owning a Jailbroken iOS device.
Your A4 or A5 iPhone, iPod Touch or iPad should now be Jailbroken on the iOS 5.1.1 firmware untethered thanks to cinject 0.5.3 Windows. If you have any further questions or thoughts please leave them in the comments section below.