Although we did show you the process involved in Jailbreaking your iPhone 4S, the new iPad (iPad 3G) or iPad 2G Untethered running the iOS 5.1.1 firmware with the Mac OS X version of RedSn0w 0.9.12b1, we always like to a have a Windows version of our guides available. No, the process is not different, but it is helpful to separate both Windows and Mac OS X to give more operating system specific help with questions, and of course it is just nice to see Windows screenshots if you are Jailbreaking on a Windows computer.  As such, in this how to guide you will learn how to Jailbreak your iPhone 4S, the new iPad or iPad 2G Untethered on the iOS 5.1.1 firmware with the Windows version of RedSn0w 0.9.12b1.
RedSn0w 0.9.12b1 iOS 5.1.1 A5 Untethered Jailbreak
Step 1) – The first thing you will need to do is download the latest version of RedSn0w, which at the time of writing this how to guide is RedSn0w 0.9.12b1. You can download RedSn0w 0.9.12b1 from the iJailbreak Downloads Section by clicking here or from the direct link below:
Download RedSn0w 0.9.12b1 (Windows)
Step 2) – Once you have downloaded RedSn0w you will need to extract it by right clicking on the redsn0w_win_0.9.12b1.zip and click the extract to folder option.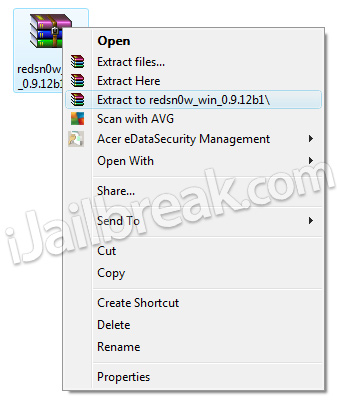 When RedSn0w has been extracted find the redsn0w.exe file, right click on it and click the Run as administrator option (if applicable).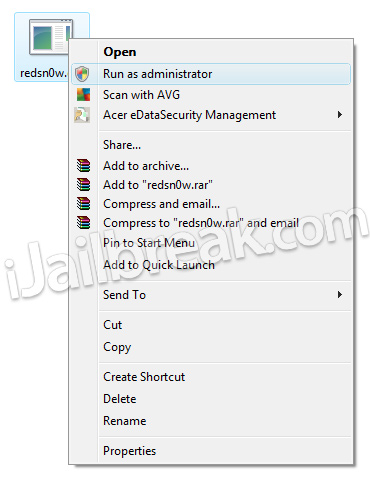 Step 3) – With  RedSn0w 0.9.12b1 up and running you will need to plug in your A5 iOS device if you have not already, and wait for RedSn0w to recognize it. Once RedSn0w 0.9.12b1 indeed recognizes your A5 iOS device you will need to click the Jailbreak button.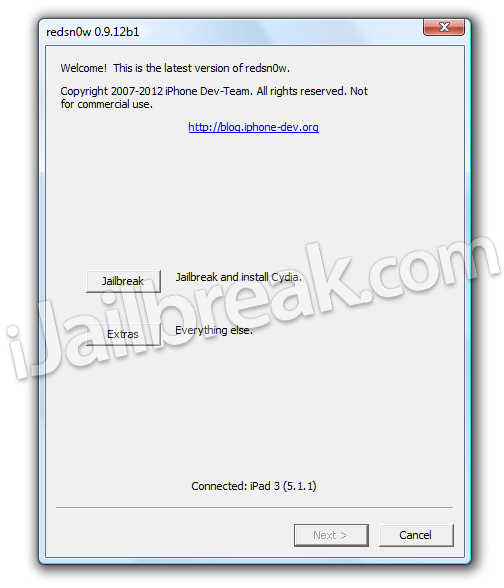 Step 4) – After clicking the Jailbreak button you will notice RedSn0w will immediately start Jailbreaking your A5 iOS device. During the Jailbreaking process it will look like your iOS device is being restored, which is normal. Do not disturb your iOS device during the Jailbreaking process.
Step 5) – When your iOS device is in a functional state, slide-to-unlock, and then tap the new Cydia icon on your SpringBoard (homescreen). Congratulations! This means your Jailbreak was successful.
Your iPhone 4S, iPad 2 or the new iPad is now Jailbroken Untethered on the iOS 5.1.1 firmware thanks to the Windows version of RedSn0w 0.9.12b1. If you have any further questions or thoughts please direct your attention to the comments section below.