Alit. One of the most amazing and futuristic looking themes of all time, has finally been remade as an HD version, specifically for the Retina display, found on the Apple iPhone 4 and iPod Touch 4.
The theme is really true to its predecessor. It looks almost unchanged, just with the sole difference, that it is in HD now. It looks amazing and even features automatic app skinning, except Cydia apps such as MxTube and DisplayRecorder.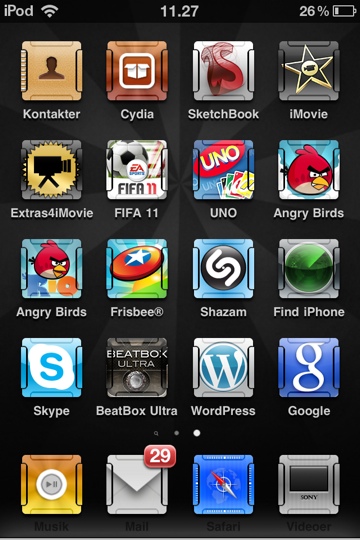 As you can see, it features auto app skinning, in a futuristic design.
This theme does come with its own slider, the same one as the SD (Standard Definition) has.
The lockscreen with the custom blue slider, also seen in the original theme.
Unlike the previous edition of Alit, the theme does not give and activate the wallpaper. However, the developer offers you a URL from where you can download some wallpapers. Although the theme is truly amazing, even though its really simple, it is not the original developer who is behind this HD version. Adrián Rubmore, whom was the original creator of the theme, stopped updating it. It was a shame that such a great theme wouldn't get an HD overhaul (at least that's what I thought). But in fact, it was only a matter of time, and then, faith struck…Ian Flack, remastered an original and beautiful theme.
Here is the default Springboard on an iPod Touch 4G, withAlit HD enabled.
I was simply amazed by the HD crunch that the theme delivered. And, it was hard to believe that it actually was FREE!
If I were you, I would simply go get it now if I did not have it. You won't be Disappointed.