Last week, the Sparrow email app was released for the iPhone and iPod Touch. Sparrow, like we described, is a much better, cleaner and faster replacement for the stock iOS Mail.app. Despite of being really awesome and stuff, the app did miss one important feature.
The Sparrow email app did not have push notifications, which meant that you wouldn't get notifications for your emails and would have to check them manually. If you did not download this email client just because it did not have push notifications, then we have something for you. This is for jailbroken iOS devices only.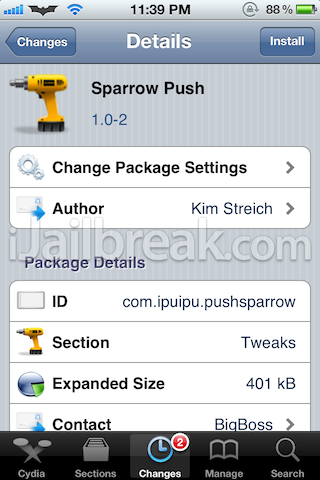 A new Cydia tweak called Sparrow Push is now available, that adds the push notification functionality to the Sparrow email app. All you have to do is install this tweak, respring and you should be good to go! In the Sparrow app, you'll see the option to Enable/Disable Sparrow Push.
Sparrow Push uses a very efficient implementation using the same APIs that VoIP apps like Skype use. Since there is an additional, permanent internet connection and Sparrow becomes active everytime there is activity in the email account, there will be a higher battery usage, but it should be comparable to what Apple Mail's exchange push implementation is.
Sparrow Push is available in the BigBoss repo for free. Anyone who's been waiting for this tweak?