Along with SearchAmplius the same developer has released another tweak to extend the functionality of Spotlight by the name of SearchCollapse. The SearchCollapse Cydia tweak simply allows you to collapse Spotlight result sections by tapping on the left margin of the section in Spotlight (this includes the icon itself).
You can then open the section again if you want to view its contents by tapping in the left margin again. This can be useful if you are someone who uses Spotlight a lot as often times the results can get cluttered, especially if you extend the functionality with SearchAmplius.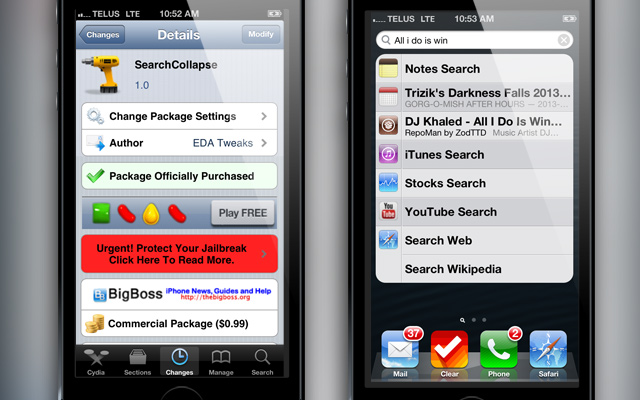 There are settings associated with SearchCollapse that can be found in the SearchLoader section in the Settings app upon installation. This includes the ability to collapse sections by default or collapse one result.
In my opinion the developer probably should have just included this functionality within the actual SearchAmplius tweak, but you do get it free when you purchase it. On the flip side if you just purchase SearchCollapse you will get $0.99 off SearchAmplius.
If you are interested in SearchCollapse you can find it in the BigBoss repo for $0.99. Be sure to let us know if you find this tweak useful in the comments section.