Saurik has updated Cydia once again, fixing quite a few bugs that were present in 1.1.14 and 1.1.15. The new update can be installed from Cydia and it is highly recommended that you do it as soon as possible.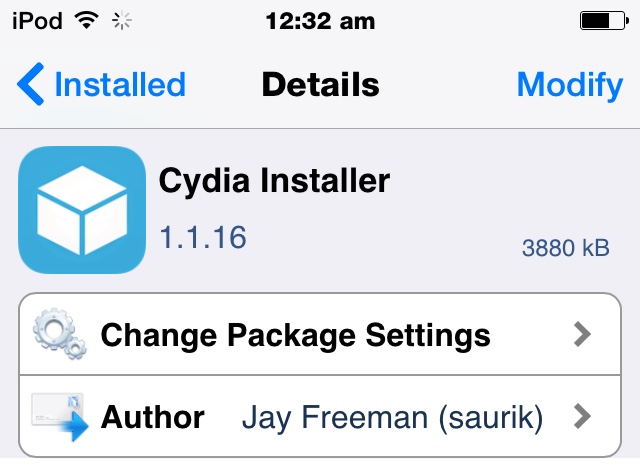 Cydia 1.1.16 fixes a bug wherein if you used Cydia after restoring from backup, you would have to reinstall Cydia so your device could reboot with a Passcode enabled. Other than that, it also fixes few other bugs that are stated below.
Here's the full changelog for Cydia 1.1.16:
iOS 8 "Restore from Backup" Fixed

This update fixes an important bug in Cydia 1.1.14 and 1.1.15 on iOS 8: if you used "restore from backup" in iTunes after your first use of Cydia, you needed to reinstall this package to make sure your device could safely reboot with a passcode enabled.

It should now be OK to use the iTunes "restore from backup" feature without needing to then reinstall Cydia Installer afterward to avoid reboot problems.

Increase iOS 8 Multitask Timeout

Cydia automatically refreshes the package catalog if it was suspended too long. This timeout is now set to 15 minutes. It had previously been only 15 seconds, because that's what I was using to test this feature, and I forgot to change it back. (Doh.)

Improved App Store Redirect Block

The initial version of this feature turned out to only be partially effective: we have done wider testing and have improved our iTunes URL detection.

Login Dialog on iPad Works Now

Apparently, logging in to an account on an iPad would not reload the login dialog, making it seem like you needed to log in again?! This is now fixed.
Basically, if you recently jailbroke your iOS device using Pangu, you'll have to update Cydia. Simply open Cydia on your device and you should be notified of the update.