qTweeter: The Fastest Way To Manage Twitter And Facebook
qTweeter is by no way a new Cydia tweak, however it is a tweak that a lot of people underestimate. Before I personally get into too much detail explaining the tweak, I think the best way for you to understand qTweeter is to simply read qTweeter's Cydia description.
If you consider yourself a social guru or would like an easier way to cross manage both Twitter and Facebook, then you should definitely make sure you check out this tweak via the Cydia Store for a price of $3.99. qTweeter does of course come with a free trial if you are interested in further looking into this great tweak without making the commitment to purchase it right away.
Features:
Update Facebook and Twitter at once.
Update your status on top of any app.
Upload Images and Video to Facebook.
Add Location and update profile Location.
TwitPic, TwitVid, yFrog, Posterous
Music, YouTube and Safari Tweets.
Twitter Friend Finder..
Multi-Account support.
Media Attachment support.
Scaled full image preview.
Background Uploading.
& More!
Did you decide to try out qTweeter on your iDevice?
WiFi-Where: Finding a Reliable Wifi Network Just Became Easier
If you have an iPhone you are probably not in dire need of a Wifi Network, however, what about when you are on a vacation? Unless you go to the trouble of purchasing a new SIM card for your travels, you are most likely going to be on the lookout for a reliable Wifi Network. The problem with finding a reliable Wifi network on a stock iPhone is that there is no way to find the whereabouts of one. This is why the developers at Silver Pine Software were busy creating a handy application called WiFi-Where that will be able to find all reliable WiFi Networks in only a few seconds.
Simply put the application in scan mode and let it find all nearby hotspots. WiFi-Where uses both the location capabilities (GPS and cellular triangulation) of the iPhone platform as well as the built in 802.11 radio to let you find any and all hotspots wherever you go. The tweak also has built in support for uploading scan results to the popular Wigle.net online database.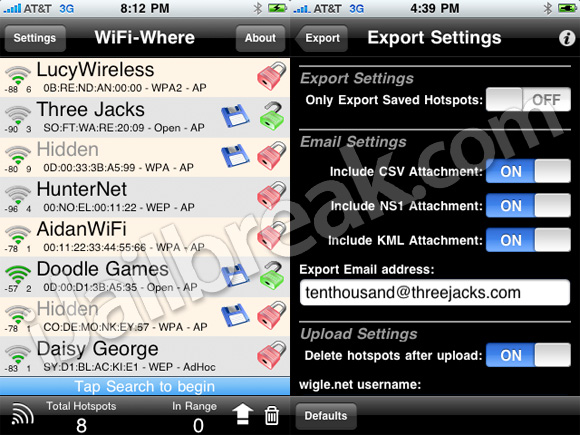 If you are interested in the Wifi-Where application you can find it through the Cydia Store for a price of $1.99. There is also a lite version available in case you are interested in testing it before making the commitment to purchase it.
Multitasktures: Switch Between Apps In The Switcher By Activator Gestures
Multitasktures is a new tweak that lets you switch between applications in the switcher by Activator-Gestures. This tweak utilizes Apple's App-Switching which was enabled in the betas versions of the iOS 4.3.x firmware, but was then disabled for release. Multitasktures lets you assign these App-Switching Methods through Activator. Which means you can now switch between applications (for example) by swiping the statusbar left-right or by pressing the volume buttons.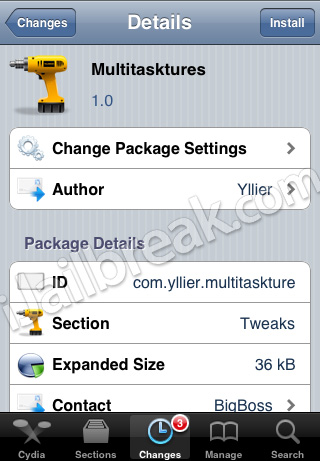 If you are interested in testing out Multitasktures you can find it through Cydia for free.
AppSize: The Tweak That Tells All
A new tweak was released into Cydia called AppSize. This tweak inevitably tells you the size of a specific application and also the date of installation on any application by simply holding down the home button while tapping an application's icon. This kind of functionality may not seem necessary but if you are trying to conserve memory on your iPhone, iPad, iPod Touch this tweak can quickly let you know which applications are taking up the most room.
You can take a look at the AppSize tweak in the screenshot below…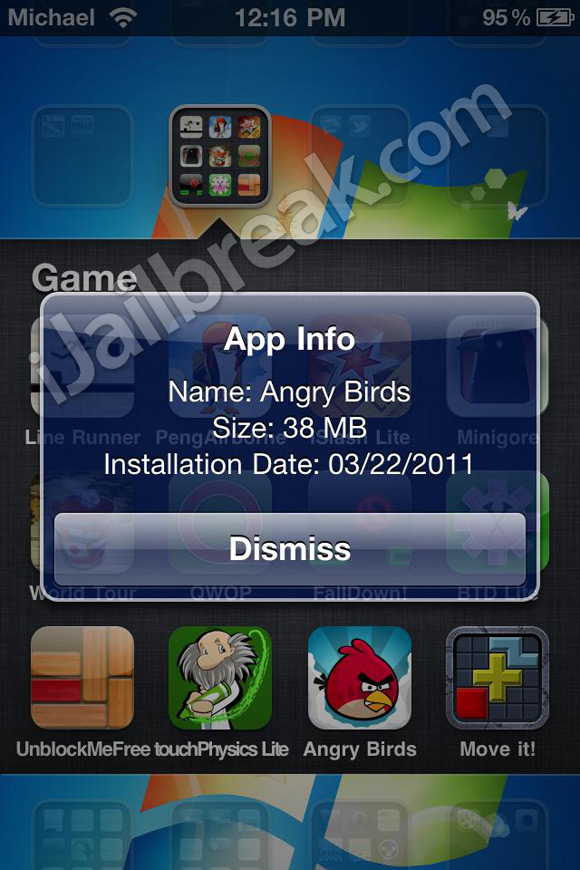 If you are interested in AppSize, you can find it through Cydia for free.