Are you looking to download/stream movies or TV shows for free? If you own an iPad then check out MovieBox. This past summer I stumbled upon a free video app from Cydia called MovieBox available for iPads running iOS 5 or higher. The app was in Cydia, and has since moved to new repo's: repo.insanelyi.com and cydia.xsellize.com
The application has further expanded not only in its capacity, but the database loads much faster when you first open up the application. The only thing I don't like about the interface are the ads at the bottom of the screen.
If users have Flex installed they can download the MovieBox patch that will remove the ads. The application is free, users can download or stream movies and T.V shows for free up to 720p. I still prefer streaming videos at 480p within the application, because you may encounter unexpected freezes while watching them at 720p. Movie Box is compatible with AirPlay as well.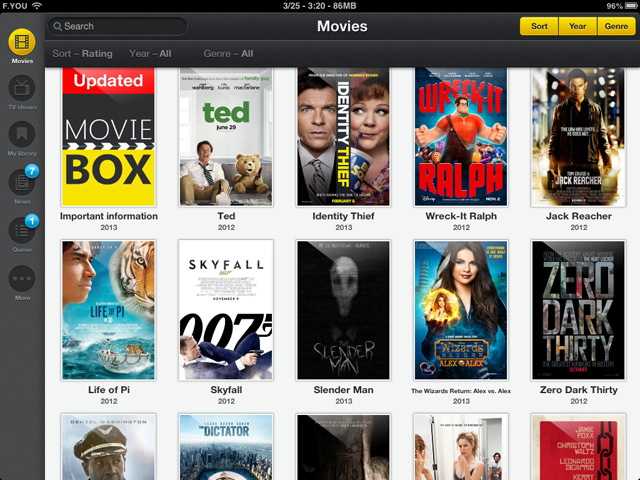 If you are experiencing any issues streaming or using AirPlay, stop the movie, quit all the other apps, re-spring and it should work fine. MovieBox lets users download more than one movie at a time, but the second movie won't start to download before the other one is finished. Users may have to wait a couple of hours for the download to finish, so my friends and I select 720p for downloads, set the iPad to the side and wait for it to finish.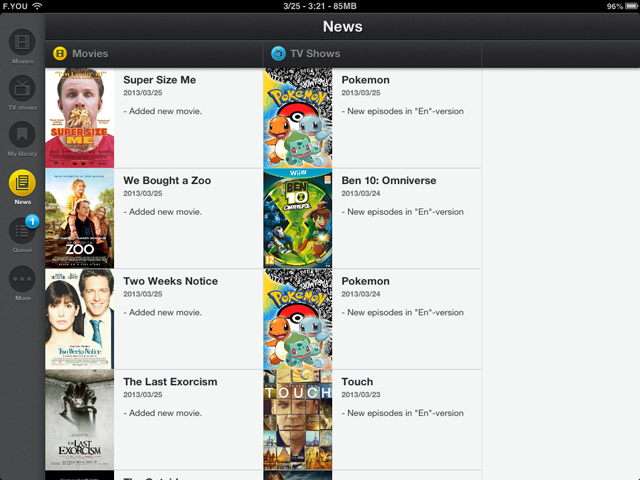 MovieBox lets users exit the app and run other applications while a download is in process, but sometimes the download will pause. Make sure to go back into the application and see if the video has paused, then you can press play again to continue the download process if needed.
Some of the movies available in MovieBox are still out in movie theaters or available before their purchased release date. Dark Night Rises was available to download or stream before it was released with no problems. Django is another example of a movie that was available before its retail release. Even some of the TV shows like Top Gear had new episodes available before they were out in America.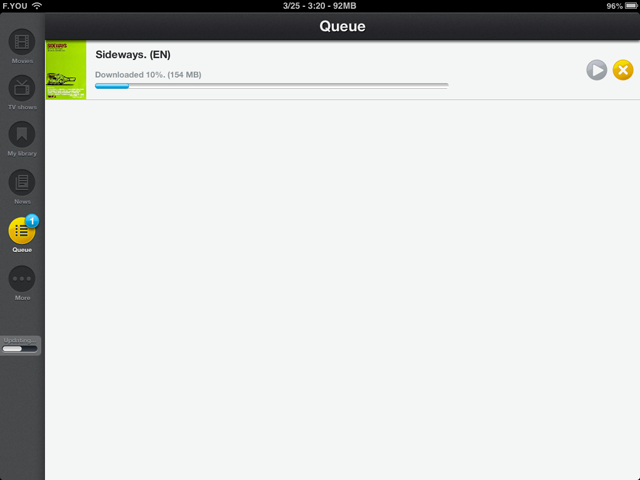 If users ever download a movie and feel like the audio was too low they can get info on the movie and adjust the volume level in iTunes.
Watch out Hulu, Netflix and Redbox. Movie Box consistently updates its database everyday with new movies, TV shows and is an application that's getting a lot of use if you're a video buff.
The movie files are in .mp4 format and can be found in this directory, /var/mobile/library/artworks
Even though users can download MovieBox onto the iPhone I wouldn't recommend it. In my experience streaming videos will stop shortly after the video begins on WiFi at 480p. Sometimes streaming videos on LTE and switching over to WiFi after the video loads works slightly better. In addition, trying to download a movie from MovieBox using iPhone 5 seems useless and it seems as if there are more videos to stream or download at 720p on the iPad.
Update #1: MovieBox has been updated to version 3.3.7 and now supports iOS 9, 9.1. No jailbreak required!