EZ Mp3 And EZ Mp3 iPad: Download FREE Music
The EZ MP3 Cydia application will allow you to create custom playlists to listen to music over the internet. EZ MP3 works by accessing a large database of music which has been uploaded to various file hosting websites, allowing you to pick songs you want to listen to, then downloading them to your iPhone, iPod Touch or iPad for you to listen to in your playlist.
If you are interested in EZ Mp3 or EZ MP3 iPad you can find it through the ModMyi repo for free.
Update #1: For a more complete Music downloading tweak, check out dTunes.
Flashy Status: Easily Tell If Your iPhone's Flash Is On
Does the fact that it is hard to tell when your iPhone's flash is currently on bug you? Well if it does you will be glad to know that with the Flashy Status Cydia tweak you will never have this problem again. This is because the tweak makes it easier to tell when your camera's flash is on, with the option of a solid or blinking indicator. Additionally, this Cydia tweak also gives you the ability to set the default flash mode, and you can disable 'Auto' mode as well.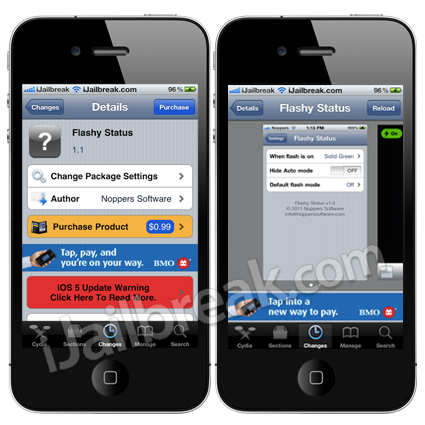 You can find Flashy Status through the BigBoss repo for $0.99.
No Icon Shadows: Get Rid Of The Shadow Effect On Application Icons
Would you prefer there to be no shadow effect on the icons present on your SpringBoard (homescreen)? Well if you would prefer no icon shadows on your app icons then you will be glad to know that with the No Icon Shadows Cydia tweak you can get rid of these app icon shadows for good. Though the tweak was available in a WinterBoard theme a while back, it has been packaged into a Cydia tweak format that only requires to be installed and it is setup; no hassle whatsoever.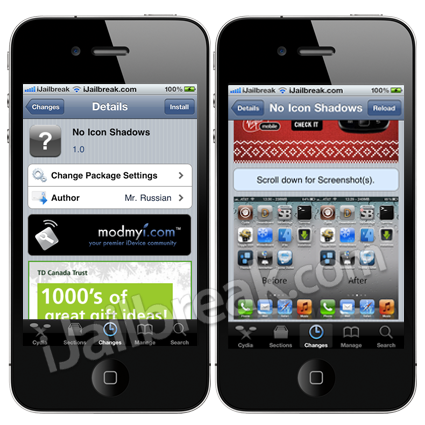 You can find No Icon Shadows through the ModMyi repo for free.
MySpotLight: Add Custom Commands And ShortCuts To SpotLight
Would you like to enhance your SpotLight page and make it more useful? Well if you answered yes to this question you will be glad to know that with the MySpotLight Cydia tweak you can add custom SpotLight commands and also a quickly launch the applications installed on your iOS Device through the SpotLight. Personally, I do not find the SpotLight very useful, but with a Cydia tweak like this I can see how one could be persuaded into using it again.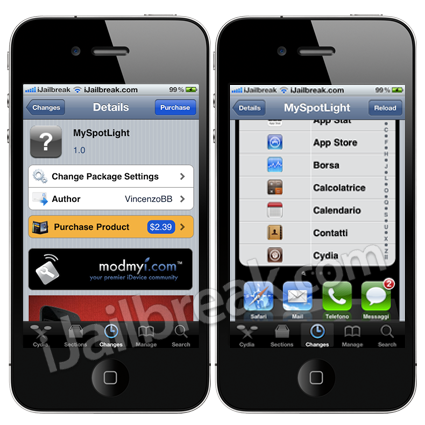 You can find MySpotLight through the ModMyi repo for $2.39.