Have you ever wished there was an easy to use application that could quickly put your iPhone, iPod Touch or iPad into Recovery Mode and also quickly do the reverse?
Introducing RecBoot – a cross compatible program that can be used to quickly induce Recovery Mode on your iPhone, iPod Touch or iPad and also kick it back out of Recovery Mode.
RecBoot is useful for fixing Recovery Mode loops, iTunes errors, you don't know how to enter Recover Mode, and is also useful for those who have a broken Home button.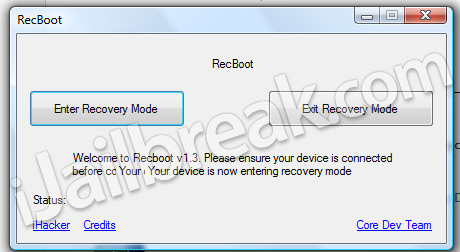 If you are interested in using RecBoot you can download RecBoot v1.3 (or the latest version) for Windows, Mac OS X and Linux from the iJailbreak Downloads Section.
Let us know what you think of Recboot in the comments section below.
Update #1: For Mac OS X users Recboot v2.2 is available – Download link (Windows and Linux users can only use v1.3).