Saurik has finally released a brand new version of Cydia (1.1.9) that is fully compatible with iOS 7 and now also looks like it belongs on iOS 7.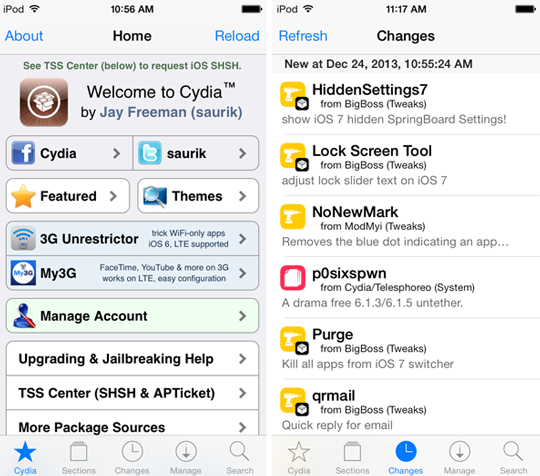 Saurik has tweeted that bringing Cydia 1.1.9 into reality wouldn't have been possible if it wasn't for Surenix who design the bar icons, Kyle Matthews who designed the UI icons, Ryan Petrich for the general UIKit help, and Optimo for testing.
I want to make certain a big thank you goes out to @rpetrich, @Surenix, and @kylematthews, without whose help Cydia 1.1.9 would have sucked.

— Jay Freeman (saurik) (@saurik) December 24, 2013
This new version of Cydia isn't just compatible with iOS 7 either, but rather every firmware generation back to iOS 2.
Due to evasi0n 7 having been released with an unofficial build of "Cydia", I had to upgrade Cydia via a package. This is more complex, as packages I release in my repository have to work for all users, not just those on the latest firmware. I have managed to get Cydia 1.1.9 working on iOS 2-7.
To think that Saurik went to all the effort to support iPhoneOS 2.x is pretty impressive and no doubt took a lot of work. So much so that Saurik himself has said there my be some underlying issues still present in this build of Cydia.
Please understand that there are still some things about this build that are "not quite right" (including the dropbar, which I want to have work like the iTunes Store's song preview bar, but right now is simply broken). I needed to get this out so I could move to Substrate, and thereby kind of hacked that together.
Although most of the general functionality of Cydia will work flawlessly, there are still some kinks Saurik will have to work out in the near future.
You can update your iPhone, iPod Touch or iPad to Cydia version 1.1.9 by simply launching the installer, going into the Changes tab and tapping the Refresh button in the top left hand corner of the screen. At this point an upgrade notification should appear asking you to update both Cydia and UIKit Tools (a collection of command line tools providing access to Springboard).
Install both Cydia and UIKit Tools and you will be rocking the new version of Cydia.