In November of 2011 we told you that the Chronic-Dev Team released a new tool to submit your iPhone, iPod Touch and iPad crash reports directly to Chronic-Dev servers. In case you were not aware of this tool, it stops your computer from sending crash reports present on your iPhone, iPod Touch and iPad to Apple when your sync your iOS device. It then uploads these crash reports to a private server that Chronic-Dev owns. The reason why Chronic-Dev wants your crash reports is because they think it will help find a vulnerability that can be worked into an untethered Jailbreak for the iOS 5 firmware generation.
The Chronic-Dev Crash Reporter is a fairly stable tool, that has successfully allowed users to submit over 10 million crash reports to Chronic-Dev. In case you are not a fan of downloading the Chronic-Dev Crash Reporter to your computer and manually submitting your crash reports to Chronic-Dev. You will be glad to know that a tweak was released into Cydia today called CDevReporter that will do this automatically. The CDevReporter Cydia Tweak is a daemon that runs in the background of your iOS device, and as explained prior, will automatically submit any new crash reports found on your iPhone, iPod Touch or iPad to Chronic-Dev. And in case you are concerned about battery life you will be glad to know that this daemon sleeps until new crash reports are found.
Note: The CDevReporter Cydia tweak will use your 3G connection if you are not connected to a WiFi network when it finds new crash reports. To combat this, you can turn the CDevReporter Cydia tweak off and on through the Settings.app. Additionally, if interested you can see the project source on Github.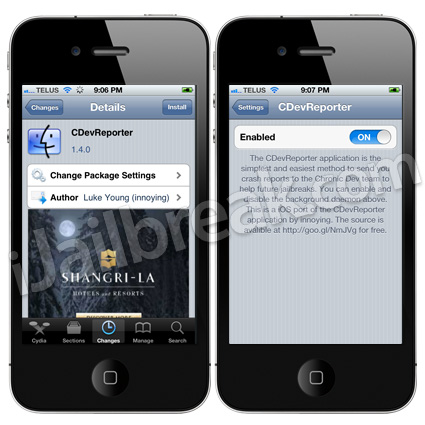 We urge all of you to install the CDevReporter Cydia tweak to your iPhone, iPod Touch or iPad to help the Chronic-Dev find untethered iOS 5 Jailbreak exploits. If you are interested in the CDevReporter tweak then you will be glad to know that you can find it FREE in the BigBoss repo through Cydia. Please share any questions or thoughts about the CDevReporter Cydia tweak in the comments section below…