Belfry: Install Weather.app, Calculator.app, Clock.app And More On Jailbroken iPad 2
Have you ever wondered why Apple did not include some of the stock iPhone apps like the Weather.app or Clock.app on the iPad? Well, if you have, and are currently looking for a solution to install the stock iPhone apps on the first generation or second generation iPad. Without having to edit and transfer files through an application like WinSCP. You will be glad to know that Ryan Petrich has developed a tweak dubbed Belfry that will actually install all the stock iPhone apps on your Jailbroken iPad.
The Belfry Cydia tweak will install the following applications on your iPad.
Clock.app
Calculator.app
Compass.app
Voice Memos.app
Stocks.app
Weather.app
Note: It is recommended that you also install the RetinaPad tweak to increase the resolution of certain apps like the Calculator.app. Additionally, please keep in mind that certain applications will have graphical distortions/oddities – this is normal. 
If you are interested in Belfry Cydia you can find it through the BigBoss repo in Cydia for free.
iEagleEye: More Options When Viewing Images In MobileSafari.app, Mail.app
The iEagleEye Cydia tweak will provide you with options you have always wanted in the image selection menu of MobileSafari.app and Mail.app that opens upping tapping and then holding an image. These options range from the ability to see the original source of any picture (discover duplicate images) and also the ability to copy an image URL or open an image in a new tab. Additionally, the tweak allows you to perform countless image manipulations, using the services listed below:
Google Search by Image
TinEye (reverse image search service)
Jeffrey's Exif Viewer (if libexif functionality is enabled, this option only shows up when the selected image contains EXIF/XMP metadata.)
ImgOps (image operations meta-tool)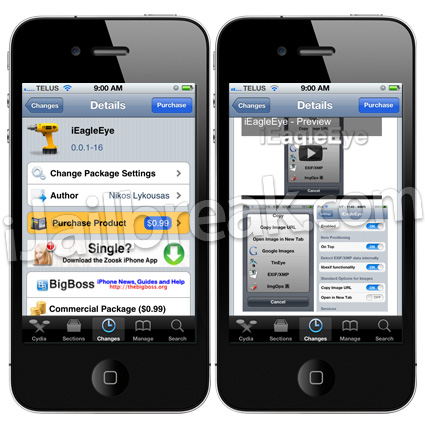 If you are interested in iEagleEye you can find it for $0.99 in the BigBoss repo through Cydia.
IconBounce: Bouncing, Flipping And Twisting Dock Icons
The iConBounce Cydia tweak will add some character to your iPhone, iPod Touch or iPad dock icons. Once you install the tweak to your iOS device your dock icons will begin to randomly bounce, flip and twist. If you are looking for a simple Cydia tweak to make your iPhone, iPod Touch or iPad stand out from the crowd then look no further than IconBounce.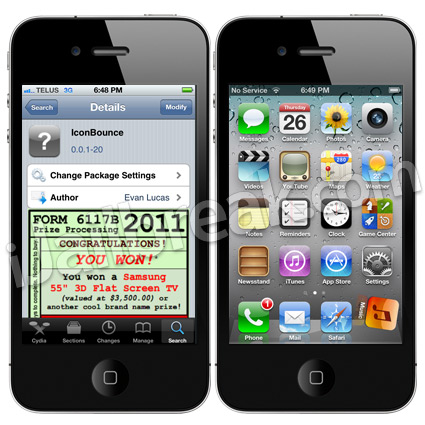 If you are interested in the IconBounce tweak you can find it through Cydia via the BigBoss repo for free.
xMessages: Contact Pictures And Timestamps For All SMS Messages
Are you looking to get a little more out of the stock iOS Messages.app? Well, if you are then you may want to check out the xMessages Cydia tweak that was recently released into Cydia. The tweak integrates contact pictures and timestamps for all SMS/iMessage Messages received. The great thing about the tweak is that if you do not want to enable timestamps, for example, you can disable that specific feature and vice versa.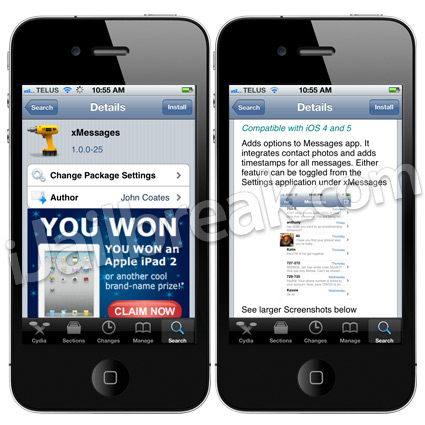 If you are interested in xMessages you can find it in Cydia through the BigBoss repo for free.