With the Baidu InputMethod Cydia tweak for the iOS 4 and iOS 5 firmware generations you will have access to an accurate Chinese Input solution. The developers note that Baidu InputMethod is shipped with multiple functionalities and a nice easy to use interface.
In case you are wondering, the powerful dictionary is based on the Baidu search engine, which make user input much more accurate. Furthermore, the cloudy optimization will update the dictionary with popular words present in the network.
Note: The Baidu InputMethod Cydia tweak does not add any icons to your SpringBoard, but does have configurable settings in the Settings.app. Another thing to keep in mind is this Cydia tweak must be first enabled after installing by going into the Settings.app and then General>Keyboard>International Keyboards, Add Baidu Input Method.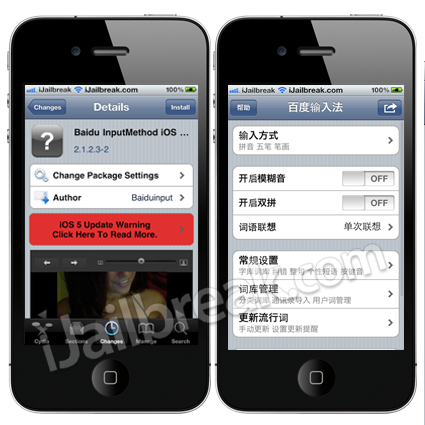 If you are interested in Baidu InputMethod iOS 4 and 5 you can find it through the BigBoss repo for FREE. Let us know what you think of the Baidu InputMethod iOS 4 and 5 in the comments section below.