Last year we told you about an awesome application that was released into the App Store that allowed you to take panoramic video or photos by rotating your iPhone 180 degrees of 360 degrees on a flat surface using its vibration motor.
The app was called Cycloramic and worked extremely well as long as you used it on the right surface.
Now the same functionality has come in the form of a Notification Center widget called Autopano for Notification Center. This Notification Center widget essentially takes the functionality of Cycloramic and integrates it natively into iOS.
To use Autopano for Notification Center you simply open up the stock iOS Camera app (or any other application that supports video or panoramic pictures), tap the start button in the Notification Center and then start the video recording or panoramic photo capture and watch the magic take place.
Upon installing Autopano for Notification Center you will need to enable it through Settings > Notifications and then you can bring down the Notification Center and play around with its settings. Right now you can choose between a 180 degree rotation or a 360 degree rotation and also adjust when the rotation will start (either 5 seconds, 10 seconds or 15 seconds after activating it).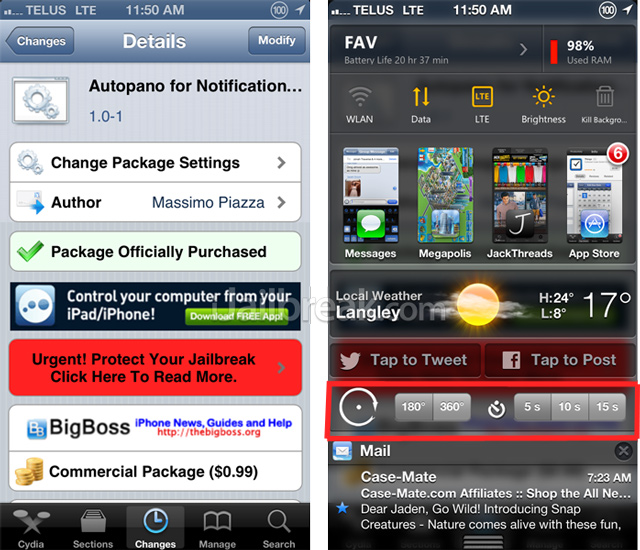 I tried Autopano for Notification Center out myself and was happy with the results. It indeed works as advertised.
You just need to ensure you are using it on a flat, level surface such as glass, granite or marble. I did run into some issues with panoramic photos stopping capture (using the stock Camera app) half way through the rotation, but overall it worked well.
If you are interested in the Autopano for Notification Center Cydia tweak you can find it in the BigBoss repo for $0.99. Let us know what you think of the tweak in the comments section below.
 Note: This Cydia tweak is only compatible with the iPhone 5.