Wouldn't it be great if you could take out your iPhone and start levelling your newly created Undead Rogue? Well, apparently Blizzard Entertainment thinks this is a good idea that may actually become a reality in the somewhat near future.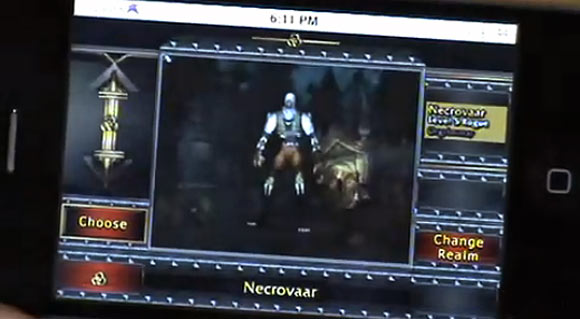 A Blizzard representative recently told Eurogamer that they have not given up on bringing WOW to the iPhone, but they have been experiencing a lot of setbacks. Obviously the biggest being figuring out how you put such intricate controls on a mobile device like the iPhone.
"It's hard! This is hard!" Lagrave said, taking out something – an iPhone – from his pocket. "Here's your platform, you've got to put an interface, what do you do? So yes we have [looked into mobile] and we always are. Maybe we'll stumble on the great way to put WOW on the phone – maybe we won't, but we're certainly looking into it. Officially? "We won't do it until we think it's decent. But it's interesting and the world is evolving towards that little handheld device – I'd have fun on it, that's absolutely the case. It would be foolish for any game developer to not be looking at that and we're not – we don't think – we're foolish!
Something interesting that was brought up was the idea of being able to do certain tasks on your mobile device, like fishing, while leaving other aspects of gameplay to the PC version. This could especially be the case in the new World Of Warcraft expansion Mists of Pandaria, as there is going to be a pet arena "mini-game," which again could be more easily brought over to the iPhone.
"You can look at fishing and say, 'Is fishing tailored to being on a table or on a mobile?' That would be awesome, right? You're sitting at the airport and think 'I'll just go fishing'. We certainly look at pet battles too, but right now we're focused on PC – that's our bread-and-butter, PC and Mac."
So will we see World Of Warcraft for iOS released any time soon? I doubt it, but it is still great to hear that Blizzard is actively looking into a mobile version of their popular MMORPG. Would you like to play World Of Warcraft on your iPhone, iPod Touch or iPad? Share your responses and thoughts in the comments section below…