Many people would like to use MobileTerminal on the iOS 4 firmware generation, but cannot due to the fact that the current version in Cydia does not work with the iOS 4 firmware generation.
If this sounds like you, you will be glad to know that we have found a working version of MobileTerminal that supports the following firmware versions:
iOS 4.0, 4.0.1, 4.0.2
iOS 4.1
iOS 4.2.1
iOS 4.3.0, 4.3.1, 4.3.2, 4.3.3, 4.3.4, 4.3.5
Verizon iOS 4.2.6, 4.2.7, 4.2.8, 4.2.9, 4.2.10
This working version of MobileTerminal (v520-1) is actually a completely re-written version of MobileTerminal that has a completely different GUI (graphical user interface) and a couple new features including configurable shortcodes. You can use this version of MobileTerminal to change your root password or do other terminal based activities like using Pirni or Pirni-Derv.
You can follow our video how to guide below for installing MobileTerminal on iOS 4 to iOS 4.3.5 firmware, or follow our written how to guide underneath the video.
Note: If your iPhone, iPod Touch or iPad is not jailbroken you can follow our how to jailbreakguides by clicking here.
Step 1) – The very first thing you need to do (if you haven't already) is add our official repository to your iDevice. You can do this now by adding the repository listed below…
Note: Our repository is compatible with Cydia 1.1.x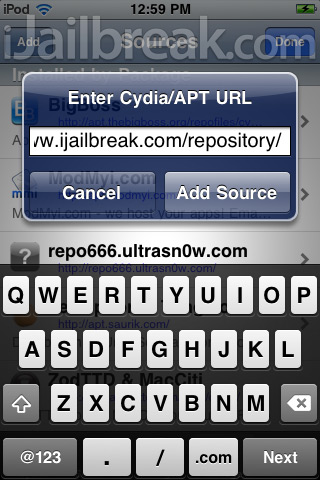 Unsure on how to add a Cydia Source? You can add a source by going into Manage > Sources > Edit > Add. Here is our repo URL:
Step 2 ) – If you already have a version of MobileTerminal installed on your iDevice you will need to remove it before installing MobileTerminal 520-1! Do this now by going into Manage > Packages > MobileTerminal > Modify > Remove.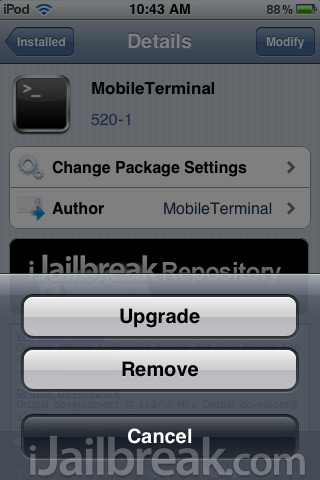 Step 3) – Once you have removed MobileTerminal from your iDevice (if you already had a previous version installed), you will need to simply go into the iJailbreak source ( Manage > Sources > iJailbreak.com), and once you are inside the iJailbreak source you will see MobileTerminal within the many other packages we have in our repository.
When you find the MobileTerminal package, click it and install it to your iPod Touch, iPhone or even iPad.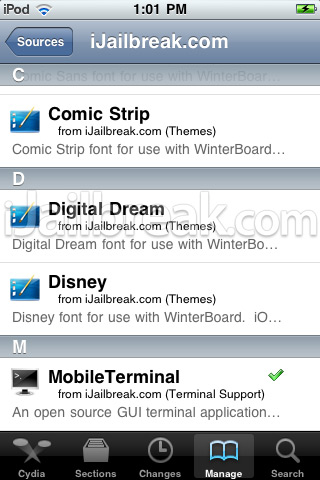 Step 4) – Once MobileTerminal has successfully installed you can launch MobileTerminal from your SpringBoard. When MobileTerminal is up and running you will see a command line interface presented to you.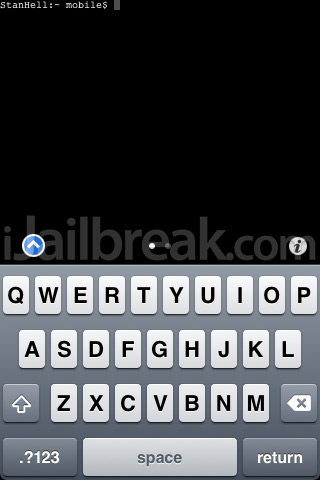 In this version of MobileTerminal, if you click the italic i icon on the right hand side of the screen you will be presented with a few configurable options.
These configurable options include Shortcode menus, and gesture controls. Two very powerful features that will make your MobileTerminal experience so much better.
For more how to guides from iJailbreak.com check out our how to section by clicking here. Let us know what you thought of this how to guide for installing MobileTerminal to your iPhone, iPod Touch or iPad running iOS 4 to iOS 4.3.5 in the comments section below…