With Samsung announcing the new Galaxy S IV the debates are now going to begin on whether or not the iPhone 5 or the Galaxy S IV is the better smartphone. Although in the end it comes down to personal preference, as both are great handsets, Dr. Raymond M. Soneira from DisplayMate has now offered his opinion on which smartphone has a superior display.
But first it is important that you understand the display of each handset. The iPhone 5 has a 4-inch, 1136×640 pixel resolution LCD screen with a pixel density of 326ppi. Samsung's Galaxy S IV on the other hand features a 5-inch, 1920×1080 display with a 442ppi. Samsung's display isn't LCD, however, and is rather an OLED screen that Samsung calls Super AMOLED. OLED screens are less accurate than LCD screens because they are still in a state of immaturity compared to LCD technology.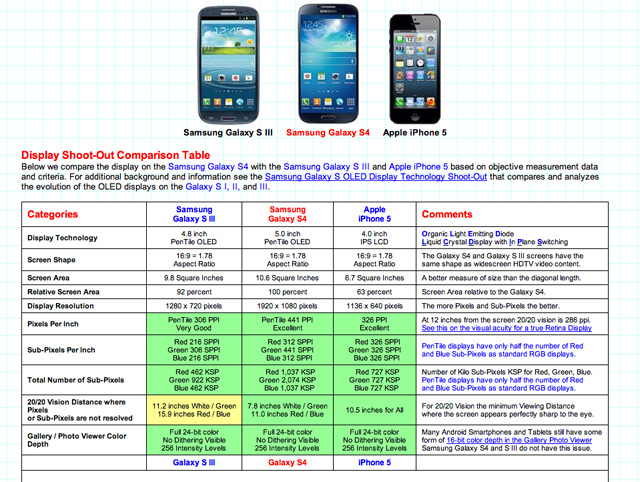 Through vigorous testing Dr. Raymond M. Soneira actually concluded both displays are evenly matched. Read through his closing thoughts below:
The iPhone 5 is now more than half way through its product cycle, which is important to keep in mind for our comparison. However, high-end LCDs like the iPhone 5 are a very mature and refined display technology, so other than screen size, resolution, and the Pixels Per Inch not much is likely to change in the next generation, no matter what Apple decides to do. The iPhone 5 is significantly brighter than the Galaxy S4, particularly for screens with mostly peak white backgrounds. Its color calibration is a bit better, although the Galaxy S4 has a more accurate White. The Galaxy S4 has a much bigger screen, higher resolution, higher PPI, much darker blacks, and better screen uniformity than the iPhone 5. They each have their own particular strengths and weaknesses, but if you scan our color coordinated Comparison Table, both displays are quite good and comparable overall – so it's currently a tie – we'll see how they both evolve and improve in the next generation…
In essence, the reason why Dr. Raymond M. Soneira thinks both displays are evenly matched is because OLED technology still has large room for improvement, where LCD technology has really reached its peak. Technically this means Samsung could continue improving its OLED screens until they become better than Apple's offering in metrics such color accuracy, viewing angles, etc.
In everyday life, however, we have reached a point where we will not really be able to tell the difference between various smartphone displays. It is only when analyzed in lab we can see which smartphone truly has a better display.