The HP TouchPad was released last year in July and unfortunately didn't have very much success. As soon as HP discontinued WebOS a firesale went into effect where you could pick up the HP TouchPad for only $99. Due to this firesale I think it is safe to say a lot of you have HP TouchPad's and as such I thought you might be interested in an early build of Android 4.1 Jelly Bean discovered by liliputing.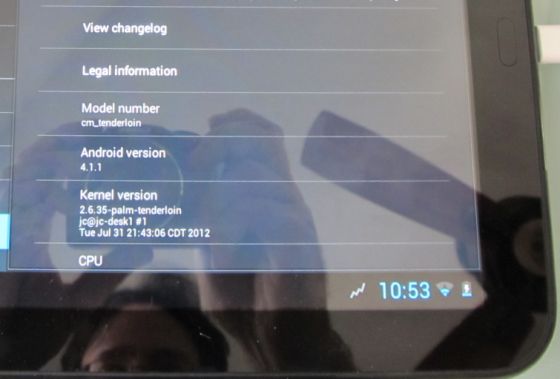 In the past there have been Android 2.3 Gingerbread and Android 4.0 Ice Cream Sandwich ports for HP's tablets, but never before has an Android 4.1 Jelly Bean port surfaced. Keep in mind that this is an early port however with the Mic, Camera, Audio, Video and graphics acceleration not working correctly. Another problem users have been reporting with this Android 4.1 port is troubles charging, but this isn't very wide-spread.
There you have it. If you are still interested in installing Android 4.1 Jelly Bean and CyanogenMod 10 on your HP TouchPad you can follow the video How To guide below. The written instructions with more information can be found here (substitute the CM10 file for CM9).
Obviously for most people this build of Android 4.1 Jelly Bean for the HP TouchPad will not be practical, but for tinkerers this is a perfect Sunday project. Did you decided to install Android 4.1 Jelly Bean and CyanogenMod 10 0n your HP TouchPad? Share your responses and further thoughts in the comments.