One of the most noted new features of the iPhone 7 is its lack of a physical home button, with Virtual Home, you can emulate that on your jailbroken device as well. Available on the BigBoss repo, this is great if you want to try and trick your friends into thinking you have an iPhone 7, or if you just can't click your home button anymore.
All you need is an iPhone with Touch ID, and of course, it has to be jaibroken. When you install it, it will be setup with default Activator functions, however you can change this in the Settings app anytime you like.
To use it, simply tap on the home button once and it will treat it as if you clicked, and you'll be taken straight back to the Home Screen. By default, tapping and then holding/resting the home button brings up the multitasking/app switcher view. Personally, I'd change this to two taps to make it feel a bit more normal.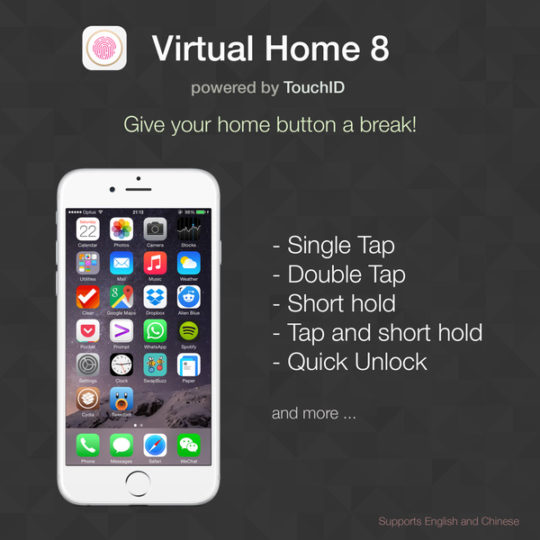 For the conservative users amongst you, this can actually save the wear and tear on the home button. Although they are one of the parts designed to last the longest as obviously it will get the most use on the device pretty much. Unfortunately tapping doesn't work for everything such as Guided Access, however for the basic functions it works just fine
The best thing about Virtual Home is that although it does utilise the Touch ID sensor to function, it doesn't actually require a validated/registered finger to be used on it, which means once/if your device is unlocked, anyone can use it, not just you. The only use for Touch ID in this sense, is to detect whether there is a finger touching the button or not.
What do you think about Virtual Home? Is it something you think you'd use or just a little gimmick? Leave a comment down below letting us know.