Have you been facing bad battery life on your iOS device after updating to iOS 9? Is your iPhone, iPod Touch or iPad not lasting an entire day? Well, if you're jailbroken on iOS 9.0.2, then there is a solution.
Yes, Apple has introduced a new Low Power Mode to improve battery life on iOS 9, but what if that doesn't cut it. What if, despite using Low Power Mode, you're still left with a dead phone at the end of the day. Perhaps you should give BattSaver a try!
The popular BattSaver jailbreak tweak was recently updated to support iOS 9 – 9.0.2. If you jailbroke your iPhone, iPod Touch or iPad running iOS 9 – 9.0.2, then you can install this tweak and improve battery life. There's more!
BattSaver also gets support for the new Low Power Mode in iOS 9 and comes with a new feature that lets you manage power when device is disconnected from WiFi. The tweak includes several bug fixes and improvements. The user interface has also received a little upgrade so it looks great on the larger iPhone 6 Plus and 6s Plus.
After installing the tweak, you get complete power management of your device, with plenty of options through the app. This is for those people who really care about getting the best battery life out of their device.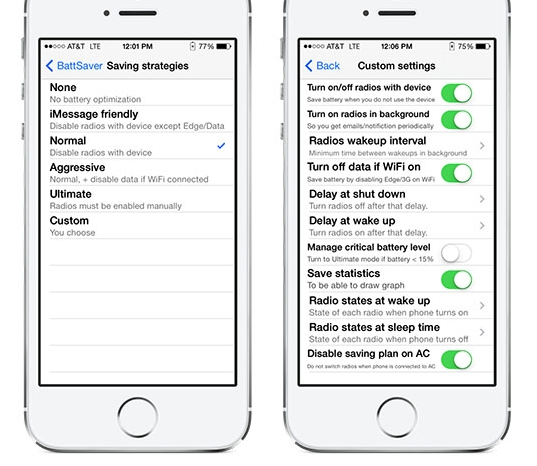 This latest update fully supports iOS 9 and promises to give you almost double the battery life. We aren't so sure about that 'double battery life' claim, but we can guarantee that this tweak will certainly give your more than before.
BattSaver is available in the BigBoss repo for $3.99 and works with any iOS device that can run iOS 9. If you haven't jailbroken already, you should follow our how to jailbreak iOS 9 guide.
If your iOS device has started facing faster battery drain, then you should definitely give BattSaver a try. It will improve battery life on iOS 9! Let us know if you've seen improvements in battery life after using this tweak.