Would you like to play free flash games on the iPhone, iPod Touch or iPad? Well, if you answered yes to that question then you will be glad to know that with the iSwfPlayer Cydia application you can play flash games (.swf files) on your iOS device. The iSwfPlayer app works in a similar manner to emulator applications currently available through Cydia like the popular gpSPhone Gameboy Advance emulator. The only difference is that in iSwfPlayer you are gaining the ability to play and view .swf files on your iPhone, iPod Touch or iPad instead of ROM files.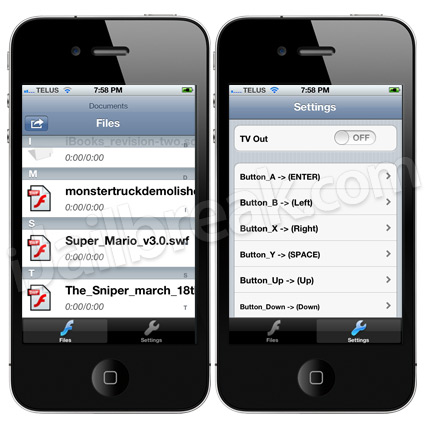 According to the developer's website the app contains the following features:
Play games on Large screen TV
Play games with AirPlay
Upload files with ftp/web server
File/Folder Management
Personally after testing out iSwfPlayer I was fairly disappointed to find out that most of the .swf flash games I tried playing did not work. There were, however, a select few flash games that did end up working, which was pretty neat. Thus, if the developer is willing to put some more time to improve the application, the Cydia app may actually be worth while to spend time installing and configuring. At this time, however, I would only recommend downloading iSwfPlayer if you have some spare time on your hands.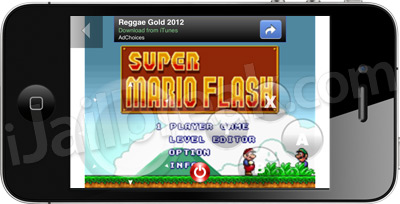 If you are going to spend the time trying iSwfPlayer then you will to want to know how to install other flash games (.swf files) to your iOS Device. This will allow you to play any of the flash games you want on your iPhone, iPod Touch or iPad.
How To Play Flash Games On iOS
In order to play other flash games using iSwfPlayer you will need to use a file-system editor program like iExplorer (Windows & Mac OS X) and place them in the following directory:
private/var/mobile/Documents
With your flash game(s) placed in the directory above you can simply restart the iSwfPlayer Cydia app and you will notice the file now appears in the iSwfPlayer file browser for you to play. Don't forget that you will most likely need to reconfigure the controls before playing your flash games by going into the Settings tab.
Did you try the iSwfPlayer Cydia application? Let us know what you thought of it in the comments section below.
Update #1: Yes, you need to have a jailbroken iPhone, iPad, iPod Touch. You can follow our jailbreak guides.