So, you have an iPhone 4, iPhone 3GS or iPod Touch 4th generation that is Jailbroken tethered on iOS 6.x huh? Well, if so you will be glad to know there is a way to Jailbreak Untethered without having to restore your device back to iOS 6.1. You simply need to install a package from Cydia by the name of Evasi0n 6.x Untether. This is similar to the Rocky Racoon Untether that was available for iOS 5.1.1.
In this tutorial you will learn how to convert a tethered iOS 6.x Jailbreak to an Untethered iOS 6.x Jailbreak using the Evasi0n 6.x Untether Cydia package. Of course if you are freshly running iOS 6.x you can just follow our official Evasi0n how to guide by clicking here.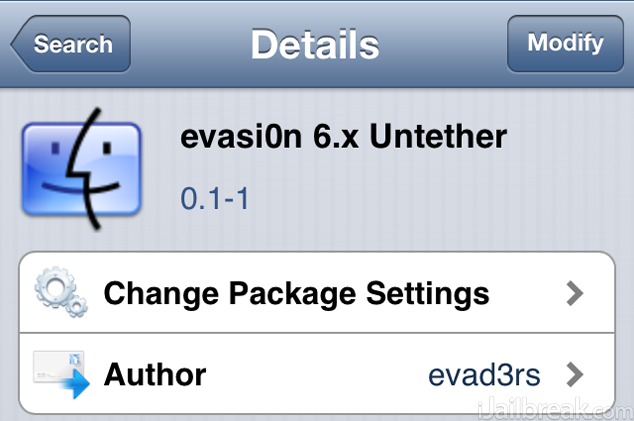 Step 1) – The first thing you will need to do is launch Cydia from your Jailbroken A4 iOS device.
Step 2) – With Cydia up and running, refresh its sources by going into the Changes tab and tapping Refresh.
Step 3) – Once the sources have finished being refreshed you will need to go into the Search tab and search for:
evasi0n 6.x Untether
Step 4) – Install the Evasi0n iOS 6.x Untether package to your device and then reboot it normally by holding down the Power button until you see "Slide To Power Off appear."
Step 5) – Turn your device back on and after Evasi0n does its thing it should be up and running in an untethered state.
That's it! That wasn't too bad was it? Let us know if you have any additional questions or thoughts in the comments section below.