This Cydia tweak is a very useful one which will allow you to mount your iPhone, iPod Touch or iPad as a filesystem to use as a USB device. You can transport files, images, videos – well, anything you do with a normal USB stick. Simply follow the steps below to install the USB Drive jailbreak tweak:
First you're going to need to add the following source to Cydia:
http://apt.dmytro.me
Then go ahead and search for "USB Drive".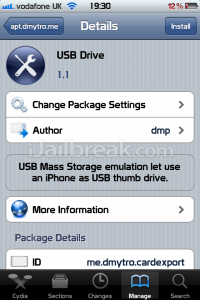 Once this is installed, go ahead and open it up. USB Drive has 3 modes which are Default, Drive+iTunes and Drive only:
Default: This is iPhone default mode. USB Drive doesn't install daemon application nor modify any USB settings. Picture Transfer Protocol (PTP) is active as well as iTunes synchronization and tethering over USB.
Drive+iTunes: In this mode USB Drive replaces PTP interface with Mass Storage interface and let you use iPhone as USB Drive. At the same time you can perform iTunes synchronization, developers can use XCode debugger, etc. In this mode USB Mass Storage will not work on Windows with iTunes or Apple USB Drivers installed.
Drive only: This mode is to resolve compatibility issue with Windows and iTunes. In this mode USB Drive changes iPhone device USB product ID. This will prevent iTunes synchronization, but USB Mass Storage will work on Windows (and other operation systems of course). Switching to the Default or Drive + iTunesmodes restores iTunes sync.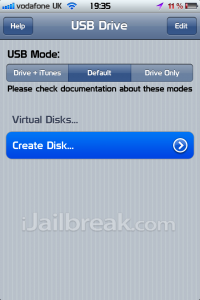 I'd leave it as default unless you know what you're doing. Go ahead and click "Create Disk…" and choose the size of the partition you would like: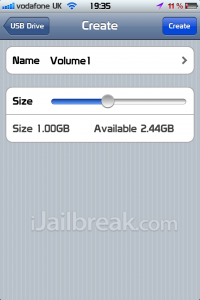 Once you have selected the desired size, click "Create".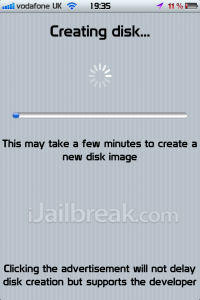 Let this finish and hey presto you have yet another use for your iPhone. To delete the partition and roll everything back, just swipe your finger to the right on the selected partition and hit delete.
There you have it, you have just turned you iPhone, iPod Touch or iPad into a USB Drive. Let us know what you think or if you have any questions in the comments.