Windows 8 Preview Goes Live, Download It Here!
It's not often you see news about Microsoft, or Windows for that matter on this site but something big just got announced and its worth a look.
Microsoft today announced their Windows 8 tablet operating system that was previewed on a Samsung slate:
ThisIsMyNext have done a writeup of Windows 8 on a tablet which is worth a look to see the performance and first reactions to a consumer device running this new OS. However, what is really interesting is the developer build of Windows 8 for the PC just went live and is available for anyone to download.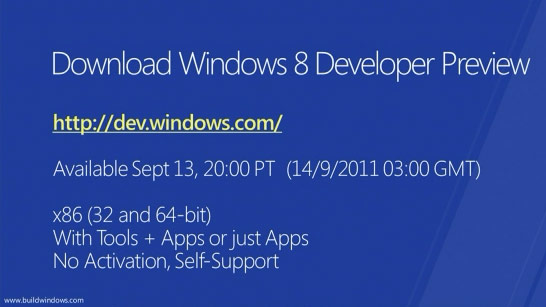 Going live only a few hours ago, head on over to the Microsoft Developer site where you'll be able to download a copy of the Windows Developer Preview to your 32-bit or 64-bit x86 machine (no activation required).
For those daring enough to try, click here to download your copy.
Make sure you stay subscribed through our social media feeds, so that you never miss a beat, by liking us on Facebook, following us on Twitter and joining our circle on Google+.
Hey, you! Join the iJailbreak Insider for weekly newsletters, Jailbreak alerts, contests and more. (No spam, we promise)