Well folks, I am going to tell you right now Facebook did not announce the rumored Facebook smartphone today at its mysterious press release. Instead the social networking giant dragged media from around the world to announce a beta search engine that isn't even available yet. Okay… I am being a little bit facetious.
Facebook essentially announced today that it will be dramatically improving its search experience with "Graph Search," that will make finding content on Facebook easier than ever before. It is essentially a more personal search engine that you can interact with using common language.
Graph Search and web search are very different. Web search is designed to take a set of keywords (for example: "hip hop") and provide the best possible results that match those keywords. With Graph Search you combine phrases (for example: "my friends in New York who like Jay-Z") to get that set of people, places, photos or other content that's been shared on Facebook. We believe they have very different uses.
Facebook will be relying on its billions of users and social connections to give people relevant results. The Verge explains "results frontload the people users interact with most; after that, they'll sort by mutual friends and total engagement — the idea is that users will get the information that's both most popular and most relevant to them."
Facebook not only hopes Graph Search will make finding people and things which you already know easier, but also finding new interests with an "Extend this Search" feature that will bring up related queries. In some ways Facebook will also be taking on review sites like Yelp with a new Places search.
Facebook has posted really good examples of some of things you can do with the first version of Graph Search that you can see in the quoted area below.
People: "friends who live in my city," "people from my hometown who like hiking," "friends of friends who have been to Yosemite National Park," "software engineers who live in San Francisco and like skiing," "people who like things I like," "people who like tennis and live nearby"

Photos: "photos I like," "photos of my family," "photos of my friends before 1999," "photos of my friends taken in New York," "photos of the Eiffel Tower"

Places: "restaurants in San Francisco," "cities visited by my family," "Indian restaurants liked by my friends from India," "tourist attractions in Italy visited by my friends," "restaurants in New York liked by chefs," "countries my friends have visited"

Interests: "music my friends like," "movies liked by people who like movies I like," "languages my friends speak," "strategy games played by friends of my friends," "movies liked by people who are film directors," "books read by CEOs"
As for queries that don't end up being found using Graph Search, Facebook has partnered with Bing "to show you world class search results for things that don't match your query." Mark Zuckerberg said himself he doesn't see a lot of people coming to Facebook to do web searches, but it is still good to have this. As for the privacy implications of this Facebook says that "you can only see what you could already view elsewhere on Facebook."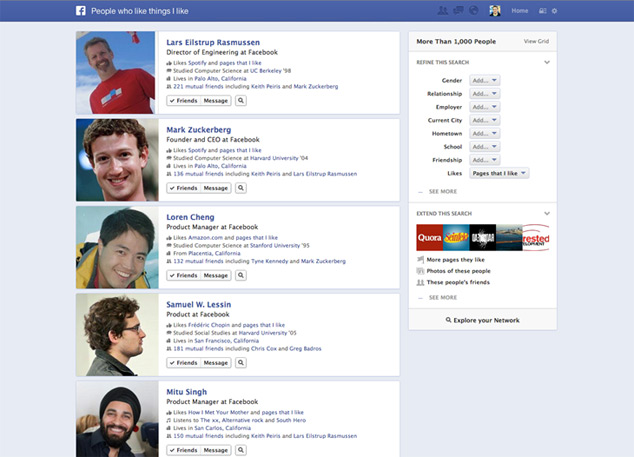 Graph Search will begin rolling out "very slowly" today with a limited beta for English-speaking users and you can sign up for this beta by clicking here. The actions are very limited at the moment and a worldwide rollout is going to take years as Facebook has only indexed a small portion of its userbase.
What do you think of Facebook's announcement? Was it disappointing or do you see this as a useful functionality you will use in the future? Let us know in the comments section below.