iJailbreak has been lucky enough to offer a ton of free premium content to our readers lately and today things get ever better! We are currently offering unlimited access to all of your favourite magazines for free thanks to Next Issue. Next Issue offers all-you-can-read access to over 90 of today's most POPULAR magazines on your tablet. We are currently able to offer you 2 months free of unlimited use to Next Issue ($30 value).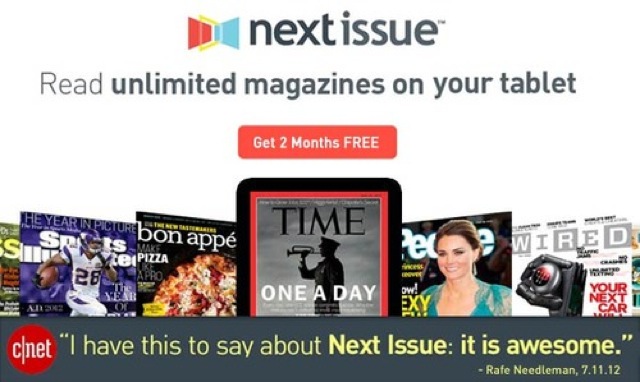 Some of the top titles that you will be able to access with your 2 months free unlimited membership include:
Bloomberg Businessweek
Bon Appetit
Car and Driver
Coastal Living
Conde Nast Traveler
Esquire
ESPN The Magazine
Golf Digest
Fortune
Golf World
GQ
Inc
Men's Fitness
Men's Journal
Sport Illustrated
Time
And dozens more
If you're a reader like us, then we're sure a couple of those titles caught your eye.
If you have dozens of old magazines lying around your house then that might be a sign that you need to go digital. Stop having to store and throwaway old subscriptions because now you can have your ultimate newsstand right at your fingertips, whenever you want it.
The Next Issue app works on the iPad, Android tablets and or Windows 8 devices. Simply click the button below for more information on how you can claim your 2 months of Next Issue for free.