It is no question that editing PDF files can be a real hassle. I have been there in the past and often times given up and found another solution around the PDF, but this is time consuming and it would have been much more productive if I had the right software for the job. If you find yourself constantly dealing with PDF files then it is time you invest in the right tools for the job.
One such tool is called PDFpen and for a limited time we are offering it at an extremely discounted price. What is PDFpen you might ask? Well, PDFpen is your simple solution to making all of your PDF dreams come true so if you ever have to deal with PDFs this might as well be your golden ticket. With PDFpen you can fill out and sign PDF forms, add text and images, correct typos, make notes, and even combine and reorganize PDFs.
Correct It: Select text in your PDF, click "Correct Text," and edit away! Revising a PDF has never been easier.
Sign It: Have a scanned signature? Drag it onto a PDF and scale it. Or scribble your signature with a mouse or trackpad. Signed, sealed, delivered: no fax, no fuss.
Share it with iCloud: Share your PDFs between PDFpen for Mac and PDFpen for iPad with Apple's iCloud. Edit your PDFs no matter where you are. (NOTE: Requires PDFpen Cloud Access which is 99 cents in the Mac App Store.)
OCR It: PDFpen does Optical Character Recognition: turn those pictures of text into words you can use!
Redact It: Keep your secrets secret: redact sensitive information, such as Social Security numbers. PDFpen doesn't just hide sensitive text, but removes it completely, thwarting the prying eyes of PDFhackers. Use search-and-redact on long PDFs for quick effective protection!
Right now you can get PDFpen for only $30, which is a 50% discount over its retail price. The pro version, called PDFpenPro is only priced at $20 more. With PDFpenPro you can all the features of PDFpen, but also the ability to make interactive forms, build tables of contents, and convert Web pages to PDFs.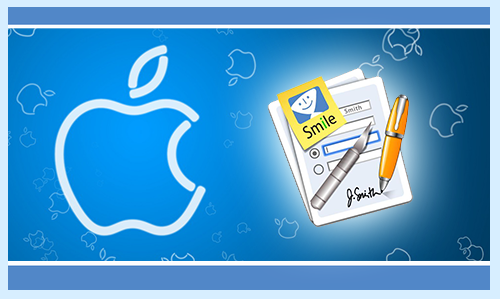 Put the Web in Your PDFs: Whether it's a single Web page or a whole site, make it into a PDF complete with clickable links.
Make Interactive PDF Forms for Both Mac & Windows: Make a scanned form come alive with PDFpenPro! Build interactive forms with text fields, checkboxes, and radio buttons!
Store Your PDFs in iCloud For Editing Anywhere: Store your PDFs on iCloud and work on them no matter where you are.
Build Tables of Contents: Don't let your users get lost. Long PDFs become a breeze to navigate when you give them a custom, clickable table of contents.
Best of all, both programs are available for the iPad so you can edit PDF files on the go. We recommend checking out both PDFpen and PDFpenPro to see which one best suits your needs.