Just when you thought things couldn't get any better, they did! For a limited time iJailbreak is offering The Name Your Own Price Mac Bundle! With this Mac bundle you can pay whatever price you want to get three awesome Mac applications that include HoudahSpot, Elmedia Player Pro, and PhotoBulk. If you decide to pay more than the average price (which at the time of writing this article is just over $8) then you will also receive Gemini, Mac Blu Ray, Musictube, Paperless, Snapz Pro X, CrossOver 12, and TechTool Pro.
10% of whatever price you decide to pay for these applications will also go towards helping a charity of your choice as well! This includes either Child's Play, World Wildlife Fund or Creative Commons.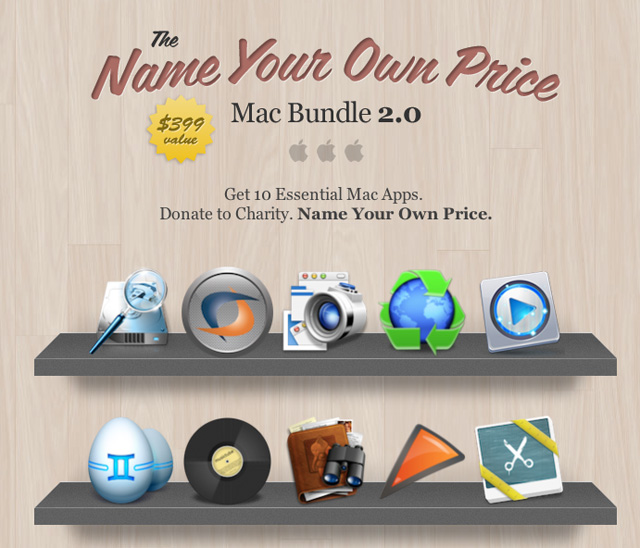 In case you haven't heard of the Mac applications that are up for grabs, check them out below…
DiskTools Pro: The best hard drive utility for your Mac.
CrossOver 12: Run Windows applications and PC games on your Mac.
Snapz Pro X: Easily record anything on your Mac from screenshots to screen recordings.
Paperless: Eliminate boxes of cluttered paper and digitally store everything in this one intuitive application.
Mac Blu-ray Player: The world's best blu-ray player app
Gemini: Easily locate and delete duplicate files on your Mac.
Musictube: Listen to millions of songs on YouTube in a convenient way.
HoudahSpot: Access any of your files in lightning speed.
Elmedia Player Pro: Download streaming videos right to your hard drive.
PhotoBulk: Apply watermarks to your photos in just one click.
So, what are you waiting for? Grab all 10 of these awesome Mac applications before the average price goes up!