Do you have an Adobe program like PhotoShop, Illustrator or Premiere Pro that is just collecting dust because you don't know how to use it properly? Maybe you have dreamed about become a graphics design artist, but can't afford the education required to master Adobe software. Whatever the case if you have any interest in learning how to use Adobe software then you will be glad to know iJailbreak is currently offering one of our biggest deals yet.
Introducing the Adobe CS6 training bundle! A bundle that encompasses more than 100 hours of training and 1,000 lessons across all of Adobe's CS6 software: Adobe Photoshop CS6, Adobe Illustrator CS6, Adobe InDesign CS6, Adobe Dreamweaver CS6, Adobe After Effects CS6, Adobe Premiere Pro CS6, Adobe Flash CS6, Adobe Encore CS6 and Adobe Audition CS6.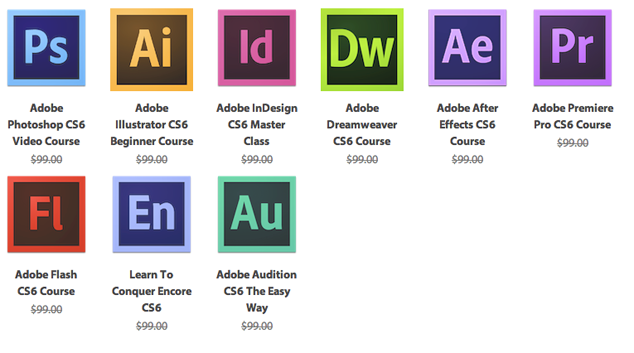 Usually for an Adobe training bundle this large you would be paying thousands of dollars. Heck, usually you need to go to college or university for this sort of thing. Why spend thousands of dollars and have to spend hours in a classroom though, when you can learn Adobe CS6 in your underwear from the comfort of your own home.
The Adobe CS6 training bundle from iJailbreak won't cost you thousands of dollars however. For an investment of a mere $100 bill you could potentially radically alter your entire life. Even if you only master a few of these Adobe programs you could make some serious cash doing freelance work or you could even land yourself a new job. The Adobe CS6 training bundle is only going to be around for the next 10 hours so you better hustle.
Click the button shown below for more information. Don't forget to check out the rest of the deals iJailbreak is currently offering as well.