There's at least 100 new features in iOS 7 and Apple only details 11 on their website. With these professionally-produced video tutorials from iOS Centric, you can skip the learning curve and peer into Apple's bag of tricks for yourself.
Usually iOS Centric operates on month-to-month memberships, but for a limited time you can snag yourself a lifetime membership for 80% off its retail price. This membership will make sure you always know how to use all of the features and functions of your devices all right from one spot, and best of all you get free lifetime updates for whenever Apple releases a new firmware version.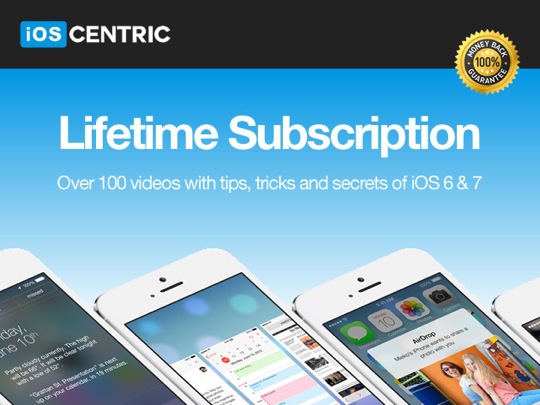 Here are just some of the things you will learn when you become an iOS Centric member…
AirDrop File Sharing – Share files such as photos or contacts with other iOS Devices.
Pro Multitasking – Switch between applications faster and dismiss multiple apps at once with certain gestures.
Control Center Shortcuts – This brand new feature allows you to bring up a window with various toggles and app shortcuts anywhere within iOS.
Notification Center Shortcuts – Redesigned and retooled, see how to optimize the notification center to increase productivity.
New Siri Commands – Siri's gotten smarter. It can now toggle system functions like WiFi or Bluetooth, embed search results from Google, Twitter, Wikipedia, and much more.
Hidden Gestures – Some features that have been around since iOS 5 that you probably aren't even aware of, learn them all including the new stuff for iOS 7.
Photo Filters and 60 Fps Videos – Forget Instagram, now apply photo filters directly to photos while you are taking them or after through the Photos app. There's even 60FPS video recording support.
Just think about how much you don't know about your iPhone?! This is your chance to learn how to fully utilize its capabilities. If you are interested in a lifetime iOS Centric membership then it can be yours for only $19.99. Click the button below for more information…