You've bought a Mac, but now it is time to really take advantage of it! Sure there is a lot of apps you can buy to increase your productivity, but when bought separately these apps really start to add up. That is why iJailbreak is offering a bundle of 9 elite Mac apps that will make you unstoppable. These 9 applications include TechTool Pro 6, Path Finder 6, TextExpander 4, MadHider, Dropzone 2, AirServer, CameraBag 2, MacPilot 5 and IPNetMonitorX.
If bought individually these applications would end up costing your $310! Who has the money for that? That is why iJailbreak is offering all of these apps in a bundle called the Mac Essentials Bundle for only $49.99. That is 83% off the retail price!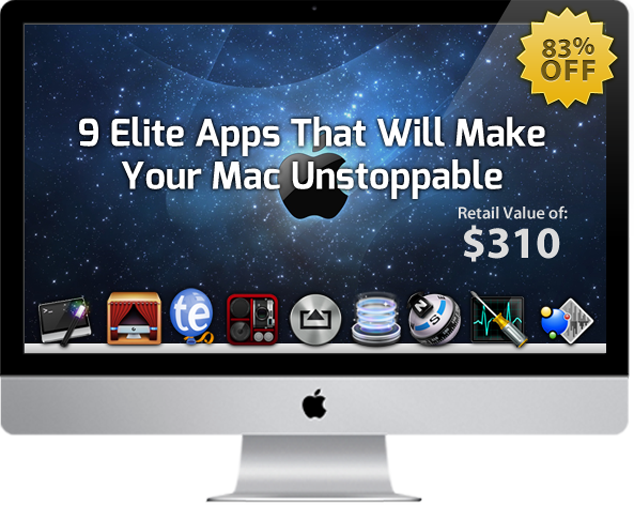 Here is a better description of what each app does (retail price is in parentheses):
TechTool Pro 6 ($100): Everything is easily accessible from a single interface. One-click diagnostics will scan critical CPU, memory, video hardware and more to identify impending problems to help you prevent costly repairs. So while it's easy-to-use, TechTool Pro provides comprehensive testing that also delivers for the Mac professional.You think your Mac is already fast? Think again…TechTool Pro 6 is here to make it even faster.
Path Finder 6 ($40): Path Finder offers the tools you need to access and manage your files quickly, accurately, and completely on OS X. A world-class operating system deserves a world-class file manager so here it is! Dive into a familiar interface packed with uncommonly powerful features and make your file system SING with Path Finder 6.
TextExpander 4 ($35): Whether it's a simple email signature or several paragraphs of a standard response, you'll love how easy it is to use TextExpander to avoid typing the same thing over and over. TextExpander saves your fingers and your keyboard, expanding custom keyboard shortcuts into frequently-used text and pictures. Once you rig up your software you'll be using your shortcuts without even knowing it which will be saving seconds of your time everyday.
MacHider ($10): Yeah, that's right, you can put your Mac on lockdown so when you're not around to protect it MacHider will make sure all of your documents and files are safe and sound. Its main algorithm makes sure all your personal data will be hidden in password-protected folders and stored in a safe place. Never worry intruders accessing your private files ever again.
Dropzone 2 ($10): Drag a file onto the menu item and your fully customizable grid of destinations flies smoothly out using core animation. Drop the file onto a destination and Dropzone will take care of the rest. Whether you're installing an app, uploading a file to an FTP server or sharing your photos on Flickr.
CameraBag 2 ($20): Let us introduce you to CameraBag 2, a photo app for your Mac with a whole new approach to editing. Redesigned from the ground up, CameraBag 2's Analog Engine pairs a full suite of photographic tools with the high quality filters and vintage simulations Nevercenter is known for. Its key innovation is a stunningly straightforward approach to layering, rearranging, and endlessly tweaking all of these effects in realtime. The 100+ fully-adjustable filters and 25+ professional controls are only the beginning, forming the palette from which you can find, and create, your own styles.
MacPilot 5 ($20): Scared of the terminal or can't be bothered to remember those commands to customize your system the way you want? MacPilot 5 is your digital saviour. Now you can easily enable and disable hidden features in Mac OS X, optimize and repair your system, and perform numerous routine maintenance operations with the click of a button!
IPNetMonitorX ($60): This masterful software debugs any internet service problems and optimizes your performance. It features 23 integrated tools and is designed to help you QUICKLY locate where the problem is and gather data which can be used to solve the problem either directly or through your Internet Service Provider. Yes!!! Finally you have an awesome solution for whenever anything goes wrong on your Mac.
Click the button shown below for more information. Don't forget to check out the rest of the deals iJailbreak is currently offering as well.