Yesterday Apple announced that the Word Wide Developer Conference (WWDC) 2013 would be taking place June 10th to 14th at Moscone West in San Francisco, Calif. If you were a registered Mac, iOS or enterprise developer and wanted to attend the event passes went on sale at 10 am Pacific, 1 pm Eastern, and were priced at $1,599.
Just two minutes after the tickets when on sale, however, the even was sold out. If you remember back to last year, it took two hours to sell out. So does that mean next year it will take 2 seconds to sell out?
Jokes aside, that is very impressive to think an event like the WWDC has been sold out so quickly. You really would have had to been on the ball to get passes to the event. Not to worry if you were too late though, Apple announced that it would be making videos of all the WWDC 2013 sessions and they would be available online to watch to registered developers.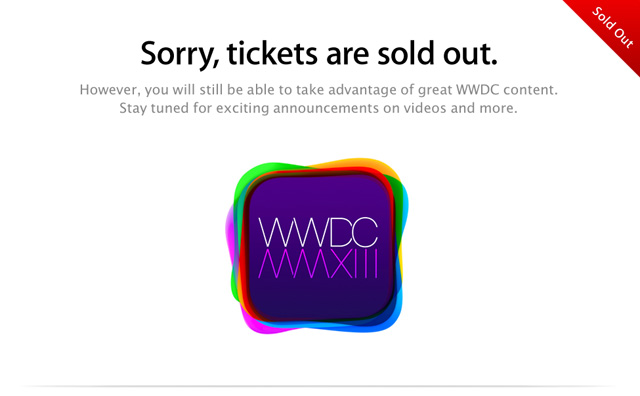 Apple publicly announced that it would be showing previews of both iOS 7 and OS X 10.9, so it is no wonder why the event attracts so many iOS developers who want to get an edge over others. Did you miss out on purchasing a pass because they sold out so quickly? Let us know in the comments.
WWDC 2013 tickets sold out before I could make a joke about WWDC 2013 tickets selling out.

— Preshit Deorukhkar (@preshit) April 25, 2013