Despite the fact that OS X Mavericks has just entered GM status and is yet to ship to the public, Apple has already started development on the next generation of OS X. If you ask 9To5Mac OS X 10.10 has been internally dubbed Syrah, which is a type of grape used to produce red wine.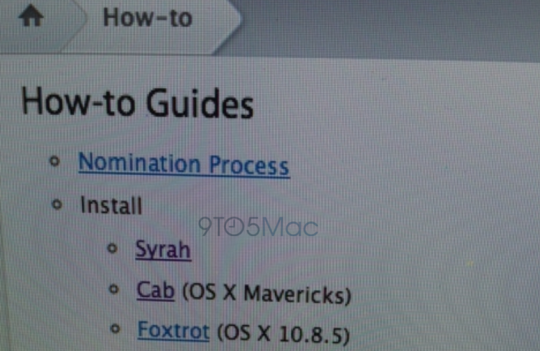 It was reported that nightly builds of Syrah have become available to Apple Employees for internal testing and that the current builds of Syrah are almost identical to the golden master version of OS X Mavericks. This of course is a good indication that development has not gone into full steam yet.
Emphasizing the fact that OS X 10.10 is still very early in development is its current build number. We're told that OS X 10.10 has seen approximately 30 seeds so far in development. For comparison, the first OS X Mavericks Developer Preview was build 476, while the first OS X Mountain Lion and Lion Previews were build numbers in the 100s range and 400s range, respectively.
So just what is OS X 10.10 going to focus on?
Apparently Syrah will be the iOS 7 upgrade for OS X in the fact that it will get a user interface redesign to follow the same design standards as Apple's mobile operating system. In another report it was stated that "Apple has been toying with a new design across the system that is akin, but not as dramatically different, to the new designs found in iOS 7 and iCloud.com."
Syrah should be released in late 2014, roughly a year from today.
In regards to iOS 8, Apple has also started making headway, and right now all we know is that it will likely bring feature enhancements to Maps such as car-finding.
It is of course very early on the next-generation iOS and OS X front, so we will have more details in the coming months.