Last year, Apple's CEO Tim Cook was ranked as the Top Tech CEO according to a survey by Glassdoor. This year, Tim Cook's ranking has dropped from No.1 to the 18th spot, while Facebook's Mark Zuckerberg climbed to the the top spot. Apple has faced a lot of criticism this year and that could be a reason for this result.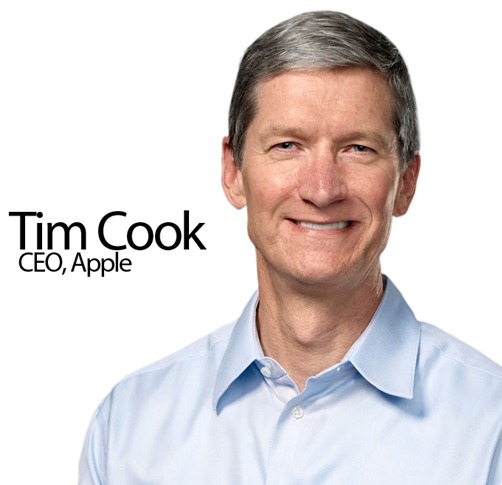 Glassdoor's survey is based on the rating given by a company's employees between Feb. 25th, 2012 and Feb. 24th of this year. Each of the employees is asked 'Do you approve of the way your CEO is leading the company?'. Last year, Tim Cook received a job approval rating of 97 percent, whereas this year that percentage dropped to 93 percent. Apple's falling stock could also be another reason behind this.
Tim Cook didn't even make the list of Top 10 Tech CEO's this year and trailed behind many other CEO's such as Google's Larry Page, Amazon's Jeff Bezos etc. Here's the list of the top 10:
Mark Zuckerberg (Facebook)
Bill McDermott and Jim Hagemann Snabe (SAP)
Frank D'Souza (Cognizant)
Joe Tucci (EMC2)
Paul E. Jacobs (Qualcomm)
Larry Page (Google)
Mark B. Templeton (Citrix)
Marc Benioff (Salesforce)
Jen-Hsun Huang (NVIDIA)
Jeff Bezos (Amazon)
According to GigaOM, the drop in Tim Cook's rank is not that surprising since other CEO's have received better ratings. This could have directly affected his ranking, since 93 percent approval rating is not bad at all. For example, Google's Larry Page received a 95 percent approval rating both in 2012 and 2013, yet his ranking has dropped from 3rd in 2012 to 6th this year. Below is a chart showing the top 50 highest rated CEO's of 2013: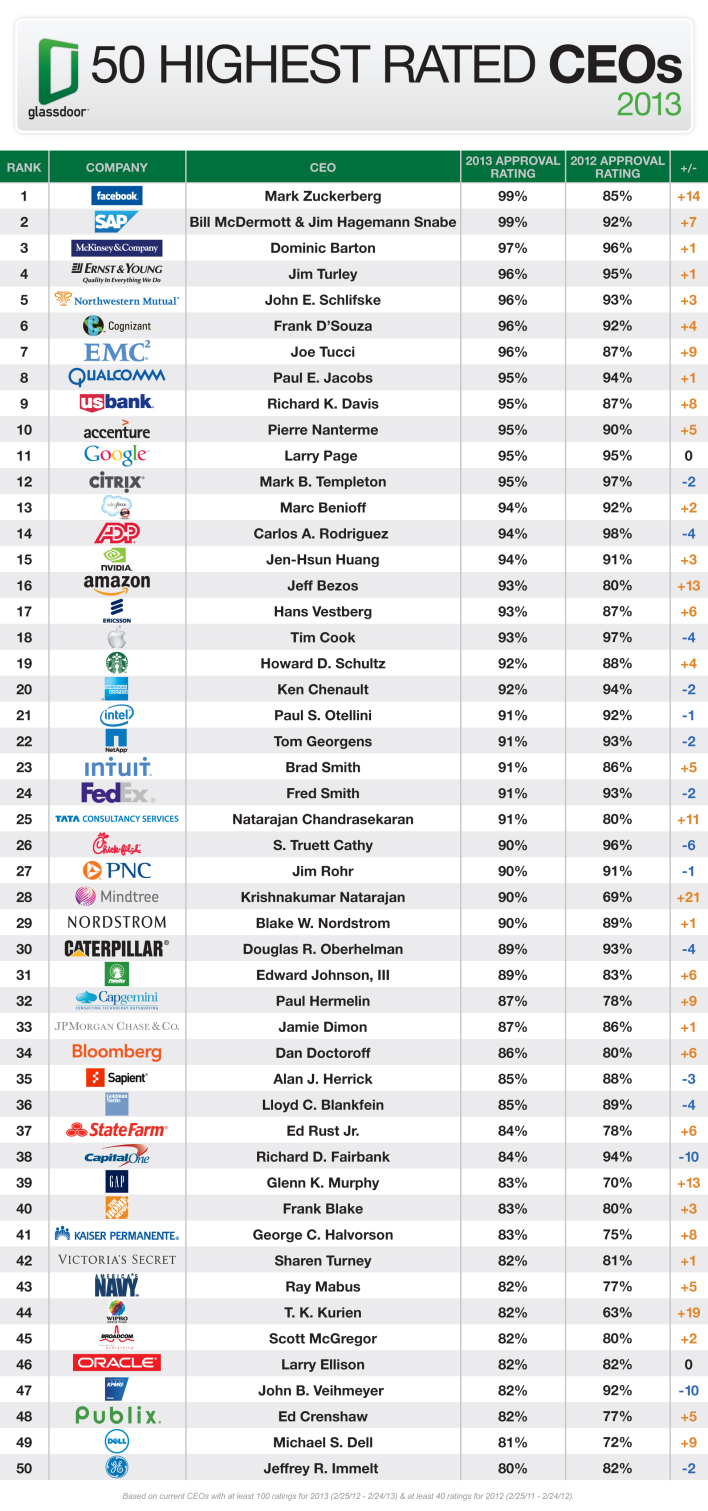 This rating is not going to have any effect on Tim Cook's current image, as Glassdoor basically does this just so people looking for jobs can have a better idea about the company and its CEO before they apply.
Apple has had a great quarter and with new products such as the iPhone 5S and iPad 5 lined up for this year, things will definitely get much better for the company. After all, it was during Tim Cook's operation that Apple saw an all time high stock value last year.