Steve Jobs was the mastermind behind more than just the iPhone and iPad, he actually co-designed a yacht with designer Phillipe Starck for his family and himself to go around the world. Unfortunately however, as you know, Jobs passed away before the yachts completion in October.
Venus — the name of Jobs' yacht — is apparently impounded at the moment because of a dispute over an unpaid bill of approximately $3 million to its designer Philippe Starck, reports Reuters. Apparently the yacht cost over 100 million Euros to build (which is around $140 million USD) and Starck hasn't received the full commission he was promised by Jobs.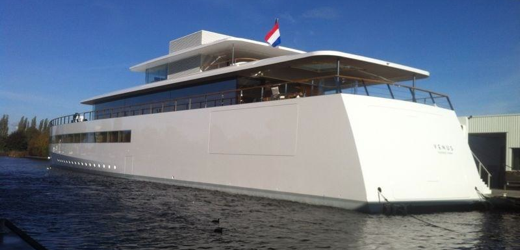 A lawyer representing Starck's company Ubik told Reuters his client had received 6 million euros out of a 9 million euro commission for his work on the minimalist vessel and was now seeking to recover the rest of what he was owed.

The yacht was impounded on Wednesday evening, the lawyer said, and will remain in Amsterdam port pending payment by lawyers representing Jobs' estate.
The Venus project has been going on since 2007 and because both Jobs and Starck trusted each other, there wasn't a very detailed contract. As such it is not certain whether Starck truly hasn't received the full commission he was promised or if he is simply trying to get another few million from Jobs' widow.