Now that the new Voice Search app from Google is available on iOS, there's a worthy challenger to Siri for the spot as your iPhone's voice assistant. In light of this news, Gizmodo decided to take both Siri and Google Voice Search for a spin, in a head-to-head voice assistant showdown. They asked a variety of questions, from directions to restaurants, to sports scores, to info on hurricane Sandy.
As you can see, both services get a couple things not quite right. The most notable ones are Siri's offering of hockey scores when asked about hurricane history, and Google's offering of past sports scores when asked for the upcoming schedule of games. Overall, though, you can see that Google gets the job done quicker and with less manual input. In many cases, Siri requires you to press a button or two to get to the results, while Voice Search goes directly to the desired information.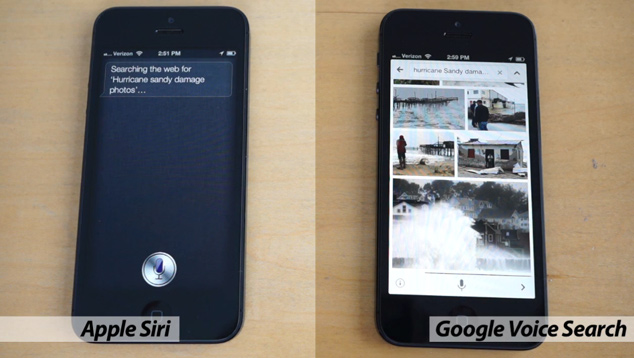 So Voice Search has certainly become a a worthy contender, and perhaps even a superior service, when it comes to things like web searches and navigation. There is one big downside to ditching Siri, though: you won't be able to use it to send texts, or any other functions that require access to other apps. Apple hasn't made the APIs for those sort of functions available to third parties, so Siri is the only voice assistant you can say "text so-and-so" to, and have it actually write a text message for you. If that's a Siri feature you actually use, it's a dealbreaker that will prevent you from switching to Voice Search.