Samsung And Google Will Team Up To Fight Apple In Court [Patent War]
As we've been reporting on, Apple has been enforcing their patents pretty heavy-handedly when it comes to competitors in the smartphone market. Following the ban on the sale of both the Galaxy Tab 10.1 and the Galaxy Nexus in the USA, due to an Apple patent injunction, Google has joined the fray on the side of the Korean maker of all things Android.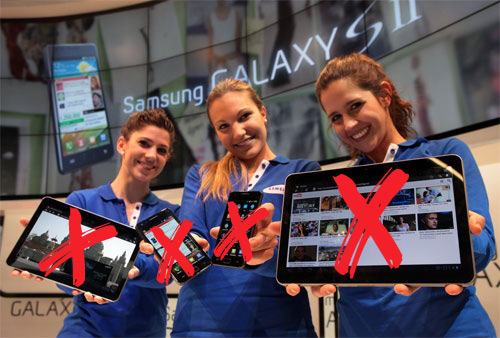 It's been several months now since the fight between Samsung and Apple began, with Apple accusing Samsung of "slavishly" copying their hardware designs. Samsung returned fire with lawsuits that claim Apple is infringing on their wireless patents. As the legal battle heats up, and Google (who already has some legal history with Apple) throws its weight into the mix, Samsung says that a truce may be on the horizon.
"It's too early to comment on our game plan (with Google) in the legal battle; but we will do our best to get more royalties from Apple, which has benefited from our technology. The fight is becoming more dramatic and the possibility of a truce in the form of a cross-licensing deal seems to be becoming likely," said a Samsung insider to The Korean Times.
This battle comes as yet another entry in an ongoing series of legal proceedings between the big smartphone players. Apple has long been notorious for filing overly broad patents in an attempt to quell competition; the most recent move of this sort being their patent on wedge-shaped laptops. An American judge recently decried the ridiculous state of patent law in the USA in his dismissal of an Apple vs Google patent case.
Nonetheless, the battle promises to rage on for as long as the American patent system continues to grant massively broad patents on hardware and software features. Google has also pledged their legal muscle to HTC, another Android hardware maker who is under fire by an Apple lawsuit right now.
Make sure you stay subscribed through our social media feeds, so that you never miss a beat, by liking us on Facebook, following us on Twitter and joining our circle on Google+.
Hey, you! Join the iJailbreak Insider for weekly newsletters, Jailbreak alerts, contests and more. (No spam, we promise)