Samsung released two new TV ads for their Galaxy Tab S yesterday and also pointed how the iPad lacks a good display and true multitasking. This isn't the first time that Samsung has compared their tablets to the iPad and its lack of multitasking or an AMOLED display.
Just last week, Samsung posted an ad where it tagged iPhone users as 'Wall huggers' as their phones are always running low on charge. The ad pointed out that the Galaxy S5 has a removable back cover and thus can provide users better battery life by letting them swap batteries.
In the first Galaxy Tab S ad, Samsung shows off its ability to run two or more apps simultaneously. A dad is following his favorite sport with live updates whereas his kid is watching a movie. Now you can't do two things at the same time with the iPad, so the Galaxy Tab S comes in and saves the day.
The excerpt reads:
"What's going on? Ahhh, it looks like dad's tablet can only do one thing at a time. What if it were a Samsung Galaxy Tab S? With the Galaxy Tab S, the whole family has something to smile about."
Check out the full ad below:
The next ad is all about how superior the Galaxy Tab S screen is compared to the iPad's. Two friends are watching a movie, but only one can see what's really happening thanks to the 2560 x 1600 Super AMOLED screen on the Galaxy Tab S. The iPad's 2048 by 1536 Retina display (LCD) isn't able to show different shades of black.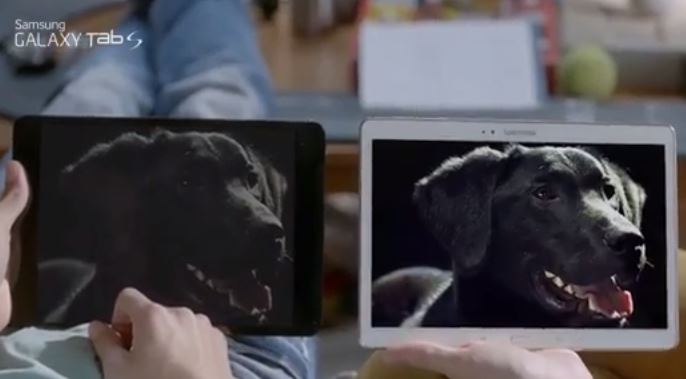 It is true that AMOLED displays are better than conventional LCD displays as they have a better contrast ratio and show better colors. Watch the full ad below:
What do you think of these ads? Should Samsung stop attacking Apple in their product ads? What are they trying to prove here. Despite all this, Samsung still lacks behind Apple in terms of sales and profit.
Anyone planning on getting the Galaxy Tab S after watching this?