Samsung announced a brand new smartphone this morning that is essentially a hybrid between the Galaxy S III and Galaxy Note, called the Galaxy Grand. This particular smartphone is catered towards users "with fast-paced mobile lifestyles who demand more from their phone."
Visually you will notice that the phone resembles a larger version of the Galaxy S III, with its rounded corners, a rectangular home button and a centered rear camera. Due to the fact that the Galaxy Grand features a "vivid 5.0'-inch display" it is slightly larger, but is still "slim, ergonomic and comfortable to hold." While Samsung is marketing the Galaxy Grand's screen as vivid, it has a subpar 800 x 480 resolution due to the fact that it is a WVGA display.
As for the specs of the phone Samsung notes that it includes "an impressive 1.2 GHz Dual Core processor supports seamless multitasking, faster web browsing, lightning-fast screen transitions and superior graphics for some of the most demanding apps and games." There is 1GB of RAM, 8GB user memory (expandable up to 64GB through microSD), Bluetooth 4.0 connectivity, an 8MP back camera and 2MP front facing HD camera.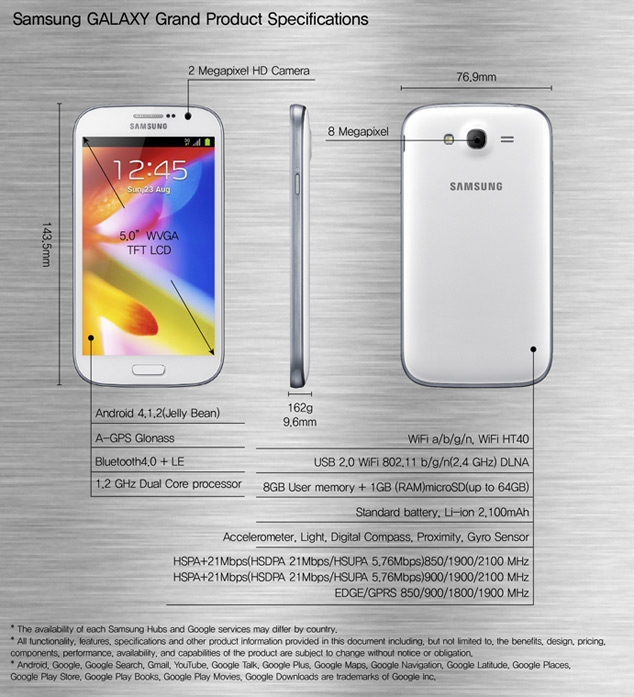 The handset will actually come in both a dual SIM and single SIM version. The dual SIM version is actually a neat idea that Samsung notes "provides total communication flexibility, allowing users to manage two phone numbers from a single phone."
No information on the release date of the Galaxy Grand or the pricing was available. What do you think of the Galaxy Grand? Drop us a line in the comments section below.