The new Retina MacBook Pro has an amazing screen thanks to the 5.1 million pixels packed in to the 15 inch package. It has a resolution of 2880×1800, one that is more than that of full HDTV's. The hardware is amazing too, it has the latest Intel processors, millions of gigs of RAM, some super fast SSD storage and Nvidia graphics. All that is packed in to a rather slim and beautiful shell that retains Apple's quality and awesomeness. It's so good, that it can easily power three external displays without any lag.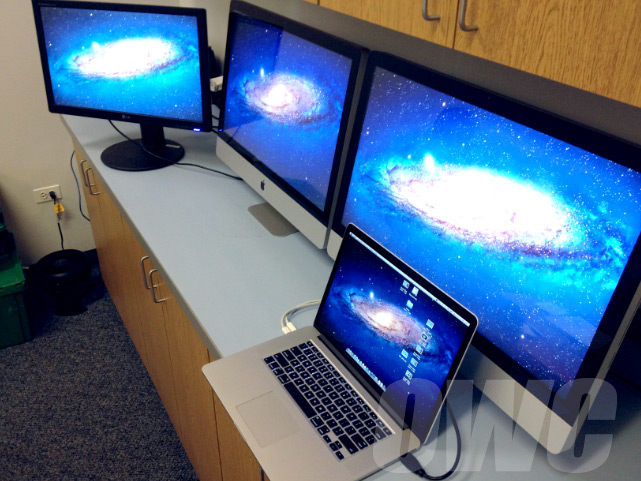 Folks from the OWC Blog decided to make complete use of the two thunderbolt ports and one HDMI port on the new Retina MacBook Pro. They hooked two iMac displays and an LG display to the laptop to find out, whether it could handle all those pixels. All of them were run at their native resolutions, that's a whopping 15,680,000 pixels, if you were wondering. It managed to perform pretty well and did not create an lag while moving images and other media. They were even able to play videos on all the 4 screens at the same time, without encountering any problems.
So, it's not just show then! The Retina Macbook Pro is indeed a beast, and a wild one! Have you got yours yet? How many screens are you planning to hook up to yours? Share your responses in the comments section below.