On June 7th, 2011 Apple proposed a new campus building, often referred to as the mothership, to the Cupertino city council. For the most part the project seemed to be embraced with open arms, but some residents have voiced concerns with the additional traffic such a campus would bring to the area.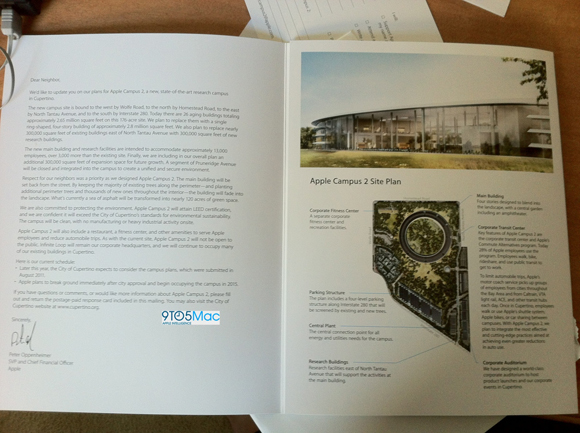 To diminish such concerns and to receive feedback Apple has started an outreach program and has sent brochures to neighbours of its 'Campus 2′ area. 9to5Mac was able to get their hands on one of these brochures and has provided a run-down that can be seen in the quoted area below:
Campus 2, as it is currently called, won't replace the 1 Infinite Loop campus.  Instead, it will just provide 'research facility' office space for an additional 13,000 employees, more than 3,000 more than 1 Infinite Loop.  There is 300,000 feet of expansion space for future growth.
Campus 2 will attain LEED certification and will have no manufacturing or heavy industrial activity onsite. Apple has and will continue to take additional steps to reduce auto use by employees. The roof of the main building is a huge solar array.
Campus 2 will not be open to the public so no museum or corporate store
The 'world class' auditorium, located at the very southern tip of the new campus, will host product launches and corporate events
The corporate fitness center/recreation center will be located to the north west of the main circular building in a separate structure
Infinite Loop will remain the official corporate HQ so top executives will likely stay behind
Apple intends to break ground as soon as Cupertino approves the changes (scheduled for later this year) and still plans to start occupying the space in 2015
Those that were sent these brochures can fill out the postage paid response card or cupertino.org website with comments, questions, concerns.