Today, Apple seeded its beta for OSX 10.7.2 to developers through their Dev Center. Upon first glance we can see that they have skipped the 10.7.1 update, leading us to believe 10.7.1 is already complete, or close to it, and will most likely be reserved for bug fixes.
This beta comes a mere 3 days after the launch of OSX Lion (iTunes link), a new record for Apple, who's previous "premature" release was that of OSX 10.6.1, which came to fruition only sixteen days after the release of OSX 10.6. This new Lion beta 5 is said to house "iCloud", Apples highly anticipated wireless file storage and transfer feature, however, no reports have yet been made on the contents, or functionality of the new update.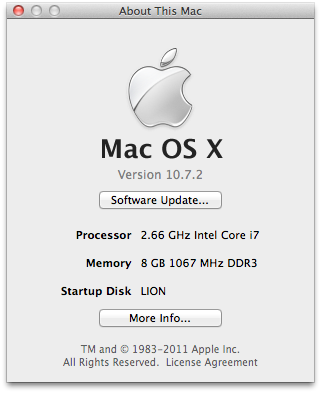 For the latest and greatest on anything and everything "i", keep your browser tuned to iJailbreak.com. Enjoy!