Apple released Mac OS X 10.8.2 Mountain Lion to users in September, complete with Facebook integration, lots of minor improvements and bug fixes. That didn't however, fix all the bugs and as such Apple seeded the Supplemental Update 1.0 to fix those issues. The company has now released another supplemental update, which addresses and fixes certain issues with 2012 Mac machines.
Supplemental updates are basically small updates that are seeded between major updates and usually fix user reported bugs that require immediate attention. The Supplemental Update 1.0 fixed issues with Parental controls in Safari and booting issues with systems that had over 64GB of RAM. Apple's Mac OS X Mountain Lion 10.8.2 Supplemental Update 2.0 was released yesterday and claims to fix certain password related issues on Mac systems bought in 2012.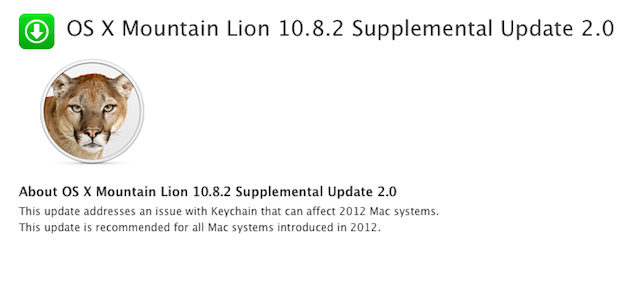 Several users around the world reported problems while installing the latest Mac OS X 10.8.2 OS update on their 2012 Macs. The new Supplemental Update 2.0 will fix this certain problem and let users install OS X 10.8.2 without any password related bugs.
This update addresses an issue with Keychain that can affect 2012 Mac systems. This update is recommended for all Mac systems introduced in 2012. 
The Keychain is where all your saved passwords and login information is stored. The OS X 10.8.2 Supplemental Update 2.0 should be available through the Mac App Store. It weighs about 26 MB and is recommended for all 2012 Mac systems. You can also use the download link below to get the update.
Download Mac OS X Mountain Lion 10.8.2 Supplemental Update 2.0 from Apple.