Most people who watch Oprah's talk show do as she instructs, but she's not always right. Especially when she tweets (via TNW) about her love for Microsoft's new Surface tablet, from an Apple iPad.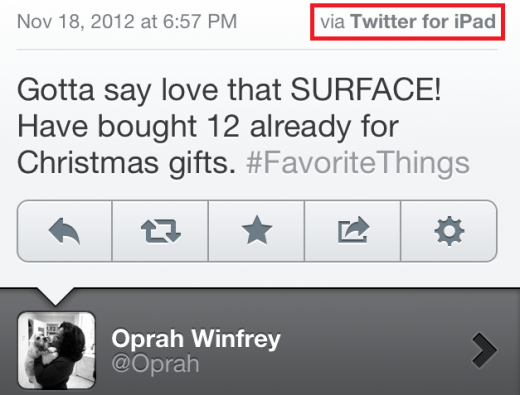 Oprah always does giveaways, product promotions and what not on her talk show. Most of her followers blindly do what ever she says and Microsoft thought it was a good idea to ask her to promote the Surface tablet. Little did they know that this whole thing was going to blow in their face.
She not only tweeted that she loves the Microsoft Surface, but she also commented that the Surface tablet's display is sharper than the iPad display. In another reply to a tweet, she mentioned that it's easier to type on the Surface too. All from an Apple iPad!
"Gotta say love that SURFACE! Have bought 12 already for Christmas gifts. #FavoriteThings"
She most likely got a lot of money for doing this, but at least do it right. You do not promote a product using a rival product, that's just plain stupid. Celebrities are known to do these kind of things, but Microsoft really has to do better to promote their Surface tablet.
The Surface RT tablet runs on an ARM chipset, has Windows RT on it and comes with a real cool Touch/Type cover. Microsoft is trying really hard to promote the tablet, but haven't achieved much success so far. The tablet has seen mediocre sales and reviews.