The Apple TV is a computer, like the one you're using to read this post. The only difference is the Apple TV is running an operating system focused solely on media playback. The first generation Apple TV could be made into a full Mac desktop running OS X, while jailbreaking the second generation Apple TV allowed for third-party software like XBMC and aTV Flash (black).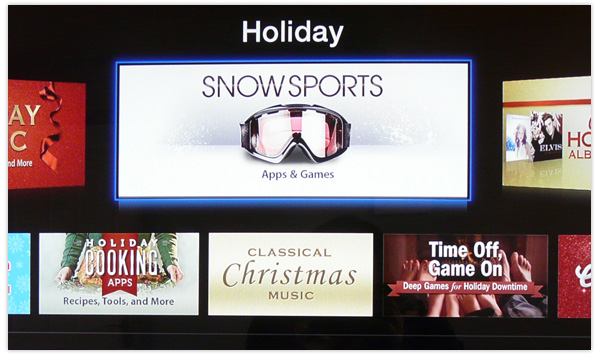 If a posting on the Apple TV's iTunes Store is correct–and isn't just an error from an intern or a graphic artist (like a recent placeholder issue resulting in iTunes linking to adult sites in Russia)–Apple will be unleashing some of the Apple TV's raw capability this holiday season. The iTunes Store contains four startling new categories for the Apple TV in time for the holidays: "Holiday Cooking Apps: Recipes, Tools, and More", "Time Off, Game On, Deep Games for Holiday Downtime", "Apps for Shopping", and "Snowsports, Apps & Games". Apple seems to be readying apps for the Apple TV. The categories are only accessible on the American app store under Movies > Genres > Classics > Holiday Music, Movies, and More, as reported by the UK-based blog Macsessed.
While the Apple TV crashes when you navigate to the four categories, iTunes on my PC does not after navigating to the same directory. On the PC the categories contain run-of-the-mill iPhone and iPad apps like The Walking Dead, Superbrothers: Sword & Sworcery, GHOST TRICK, and The World Ends With You: Solo Edition. The games do not seem to have support for the Apple TV, and frankly, I'm not sure how it would work if they did. This leads me to believe that this is a bug on Apple's part–a domain on iTunes that the Apple TV quality assurance team overlooked–and not a hidden teaser for the Apple TV's unannounced app store.
This is a shame, because official app support could make a third generation Apple TV exploit possible.
Does the Apple TV need apps, or is AirPlay mirroring enough? Share your thoughts in the comments section below.